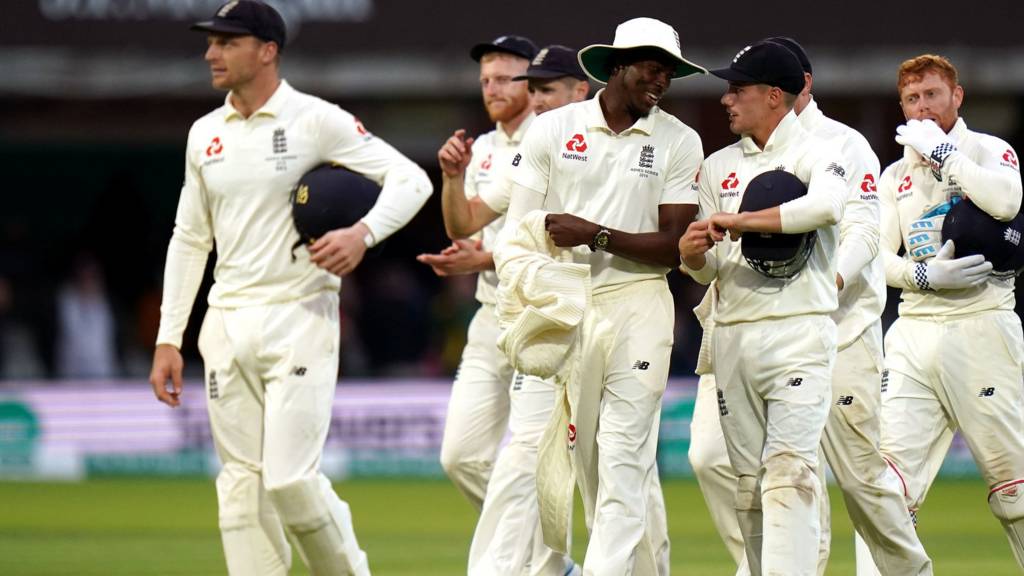 Ashes: Australia repel England to draw thrilling Test - relive thrilling finale
Live Reporting
Send a text to

81111 (charged at your standard message rate)

Twitter:

Use the hashtag

#bbccricket

Facebook:

BBC Sport
Just a bit!

Congrats to Emma and Adam!

SMS Message: I was at a wedding yesterday. Did I miss anything at the cricket? from Ruth Brooksbank, recovering from Emma & Adam's wedding in Hexham

Stephan Shemilt

BBC Sport at Lord's

You could look at this rain a couple of ways, depending on your disposition. Every drop lessens England's chances of winning but also increases their chances of escaping with a draw. Either way, the longer we're not playing, the more Australia become the only side who can win. Groundstaff and umpires have just appeared. The press-box chat is it will ease by lunchtime.

It's still raining at Lord's. It's expected to last another hour.

We're clearly not going start play on time at 11:00. We can add a bit of time on later in the day but then bad light will become an issue.

Paul Fassnidge: Following a Ben Stokes and Jos Buttler masterclass England to declare on 230 an hour after lunch today before Archer blows the Aussies away and levels the series...you've gotta dream a bit in life haven't you?!

Phil Tufnell

Ex-England spinner on BBC Test Match Special

And that was Steve Smith - the best batsman in the world - bobbing and weaving.

Jonathan Agnew

BBC cricket correspondent

That was like watching the 1980s West Indians yesterday.

I have high hopes for today but yesterday was one of the best days of Test cricket I can remember.

It included that gripping hour of aggressive fast bowling from Jofra Archer to Steve Smith and Smith's remarkable bravery to return again after his nasty blow.

There was also that gripping final session where the match teetered, almost swinging fully into Australia's grasp before a mini recovery from England.

They'll resume today on 96-4, 104 ahead of Australia.

Video content

Don't forget the tie! It's not like we've had enough of those at Lord's this year...

SMS Message: Why do you keep saying "all four results"? Surely it's just three? England win, Australia win or a draw? What's the fourth? from Tom in Manchester

Phil Tufnell

Ex-England spinner on BBC Test Match Special

We'll be lucky if we're out there after an hour - it looks like at least a couple of hours for me.

'I can't see how England can win'

Michael Vaughan

Ex-England captain on BBC Test Match Special

The rain scuppers England's chances. If you lose a session - 30 overs - I can't see how England can win the game. The only results I can see are a draw or an Australia win because England could easily lose six quick wickets.

'Unbroken play this afternoon'

BBC Weather's Alina Jenkins: "We've had a number of showers this morning and they've merged. It's probably going to take about an hour to move through. It will clear, things will turn drier and we should see unbroken play through the rest of the afternoon. It's moist and humid, with temperatures of about 21C."

This is really, really disappointing. We need this rain to disappear quickly.

Jonathan Agnew

BBC cricket correspondent

It is amazing we are thinking about results after so much time has been lost to the weather. An hours rain appears to be going to delay the day.

Frustratingly it is raining at Lord's this morning.

It's gloomy and there is drizzle in the air but it is forecast to clear away soon...

Good morning.

Despite all of the rain, we have a thriller on our hands.

Heading into the final day all four results are still possible. By 19:00 England could be level at 1-1 in the series, Australia may have a 2-0 lead or we might still be at 1-0 to the tourists.

Strap yourselves in. This could be one of the those special Test match days...

Just when you thought this famous old ground had seen enough tension for one summer...