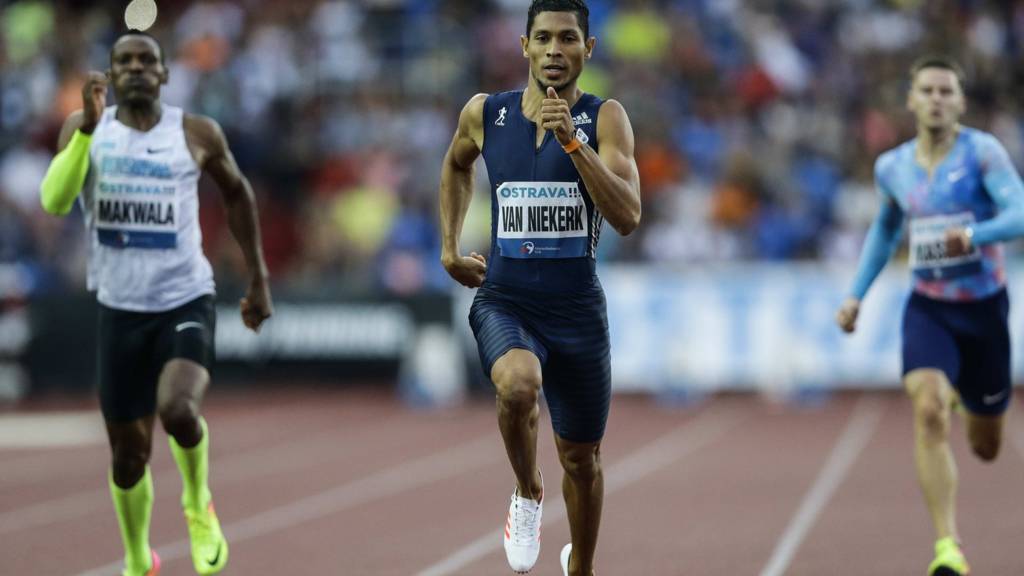 Usain Bolt wins in one of his final 100m races
Summary
Usain Bolt wins the 100m in a time of 10:07
GB's Mo Farah wins the 10,000 m
Wayde van Niekerk wins the 300m with a world leading time of 30:81
If you missed Mo's win, you can watch it again.

Bolt for the win! He does it in a time of 10:07.

And now it's time for the final track event - Usain Bolt in the 100m.

Victory! Mo Farah wins the 10,000m.

If you missed it earlier, South Africa's Wayde van Niekerk set a new World Record in 300m.

Mo Farah will be up next in the 10,000m.

When are the star athletes taking part?

Wayde van Niekerk takes part in the 300m at 18:55

David Rudisha will be in the 1000m at 19:05

Mo Farah will be in action in the 10,000m at 19:15

Usain Bolt will be in the 100m at 19:55

What's the schedule for today?

All times BST

18:05 - Javelin

18:09 - Hammer

18:15 - Women's 200m

18:22 - Women's 100 m Hurdles

18:25 - Women'sHammer

18:30 - Men's 110m hurdles

18:34 - Men'sHigh Jump M

18:40 - Men's 3000 steeplechase

18:55 - Men's 300m

18:58 - Men's Shot Put

19:00 - Men's Triple Jump

19:05 - Men's 1000m

19:15 - Men's 10,000m

19:18 -Women's Pole Vault

19:55 - Men's 100m

20:05 - Usain Bolt Farewell

Some of the biggest stars are turning out at this year's event. Wayde van Niekerk is competing in the 300m and has promised to get 'ridiculous'.

GB's Mo Farah goes in the 10km, whilst Usain Bolt runs in the 100m before a special farewell to end the evening.

What is the Golden Spike?

Golden Spike is an annual athletics event at the Mestsky Stadion in Ostrava-Vítkovice, Czech Republic as part of the IAAF World Challenge Meetings.

It was first organised in 1961.