Sally Conway flies Scottish judo flag in Rio

By Jane Lewis
BBC Scotland
Last updated on .From the section Judo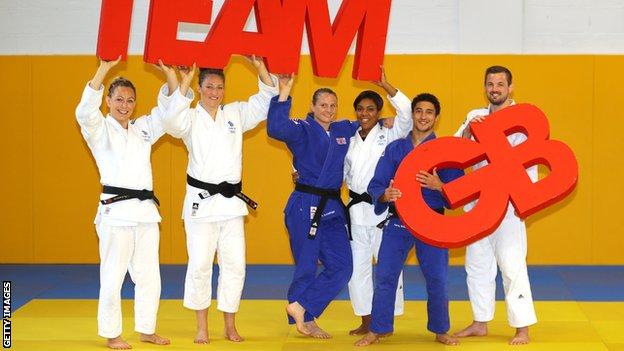 Sally Conway has been named in the Great Britain judo team for the Rio Olympics - and the 29-year-old is sole Scot in the squad.
"It feels really, really good," she told BBC Scotland. "It's going to be amazing. I love the feeling you get from being part of that team."
It will be Conway's second Olympics after competing in 2012,
"London was an amazing experience from start to finish," she said. "I feel like all those experiences will help me so much for Rio this year.
"As an older and experienced athlete, I feel like I really know what I want. In training, I know what I want to work on to be able to get better and to be able to execute the things in competition to be able to make me win the fight."
And, four years on from her first Olympic experience, Conway is in confident mood.
"In my weight category, I feel like everyone can beat everyone," she suggested. "It just depends on who gets it right on the day.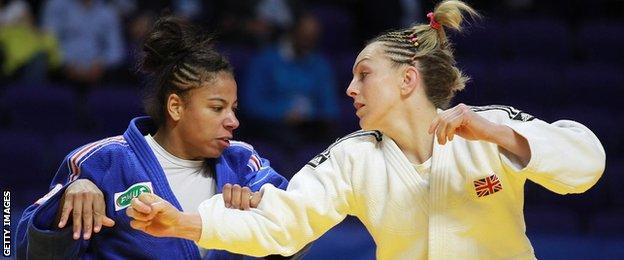 "Seventy kilos is very strong. It hasn't just been one person winning the gold medal, so if I get everything right on the day and I prepare as best I can and perform as I know I can and fight how I know I can fight, I really believe that I can be on that rostrum."
Conway trains at the national training centre in Ratho on the outskirts of Edinburgh and has been tipped as a medal contender by someone who knows all about the highs and lows of the sport and who now has a significant coaching role at Judo Scotland.
Euan Burton is now Judo Scotland's high performance coach after retiring following his gold medal at the 2014 Commonwealth Games.
"She's capable of a medal," he said. "Sally is always the first here at training and last to leave.
"She's put in such an amount of hard work, not just in this Olympic cycle but in her own career and we're hoping this will be the pinnacle of her career in Rio."
Scottish judo players enjoyed great success at Glasgow 2014 - out of a possible 14 medals, Team Scotland won 13 - six gold, two silver and five bronze.
And Scots have been fairly well represented in previous Olympic teams.
No worrying set-back
In Beijing in 2008, Burton was joined by Sarah Clark and Michelle Rogers.
Four years later in London, four Scots made the team. Burton and Clark against were present, joined by Chris Sherrington and Sally Conway.
Conway is on her own this time, so is this a worrying set-back for the sport in Scotland?
A strong no is the answer from Burton.
"I don't think it's a massive surprise," he stressed. "When you look at what we had before running into London, we had a couple of quite senior, more elderly players like myself and Sarah Clark who were in the team.
"So there was very much an awareness there and in Glasgow that we had quite an old team and, for a lot of those people, Glasgow was the final step on the competitive mat.
"So there was an awareness within Scottish judo that we were going to lose a lot of our elite competitors who had been getting us results for the last 10-15 years."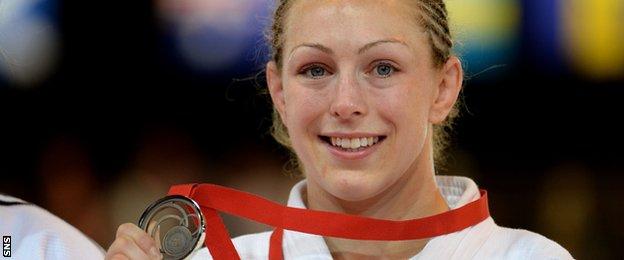 Although Conway is the only Scot heading to Rio, she will be joined by England's Colin Oates, who trains out of Ratho, while Scotland's Sam Ingram is in the team for the Paralympics, and Burton believes the future looks bright.
"The health of Judo in Scotland is growing and growing and growing," he insisted. "We have a really good group of young guys training here and we also have a few Scots down at the British Judo Centre of excellence in Walsall and I would fully expect some of them and some of the guys from here to be in and around the mix for the Tokyo cycle when we come to that in four years time."
The Commonwealth Games is also on Burton's mind, although not the Games in the Gold Coast in two years as Judo is not included.
He has an eye on Durban, where judo will make a return in South Africa in 2022 as a core sport.
"I'm really encouraged by the group coming through and I'm sure that, by the time Durban comes around, these guys will be ready to deliver for us," he added.