GB judo team 'can bounce back' at London 2012 Olympics
By Nicola Fairbrother
BBC Sport judo commentator and former world champion
Last updated on .From the section Judo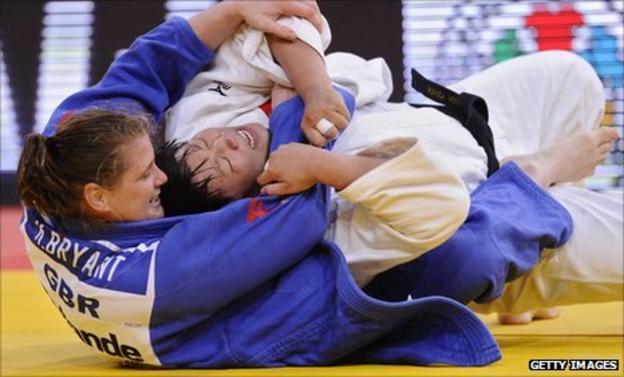 Judo is not like running or swimming, where if you're running a certain time it can guarantee you a medal, it's really about on-the-day performances.
British Judo is disappointed with not winning any medals at the World Championships but I don't think you can judge what is going to happen at the Olympics with what has just happened.
This new rule which allows two judoka from every nation to compete in each weight category, rather than one which is how it will be at the 2012 Olympics, is causing problems.
The British players are often unseeded, so they face a top fighter in their first or second contest and go out of the tournament.
I think it was brought in to aid smaller nations by giving more players championship experience, but it's had a reverse effect and means strong countries like Japan and France have more chance of winning medals. I hope they change it.
The other issue is the change in the repechage law. A couple of years ago, if players lost in the early rounds they could come back in to the tournament through the repechage system and compete for a bronze medal, but not any more.
Of the 14 gold medals on offer, Japan and France won nine between them.
It's not the case that British judo hasn't evolved, it's just that many other nations have evolved at a faster pace.
The Japanese weren't always such a strong force.
Not until 1992, when judo was made an official Olympic sport for women, did they begin to dominate.
Their players are usually ranked first or second in the world and their reserve player could probably be in the top 10 as well.
There are about a million people who participate in judo in Japan and about half a million in France, so we've got to keep it in perspective. Britain can't compete with that.
We are at the level of other strong nations like Germany, who won a silver medal in the men's +100kg division, but we just didn't have a good tournament.
There are a lot of positives to be taken from this event - Colin Oates was close to a medal in the -66kg weight, following his European bronze, so he's moving in the right direction.
Euan Burton (-81kg) put in a strong performance against the eventual runner-up, Srdjan Mrvaljevic of Montenegro.
And Sarah Adlington (+78kg) had the world number four, Lucija Polavder, to deal with in her first fight. If you take that all into consideration, we're not far off the mark at all.
At London 2012, if things go our way and we fight well we can pick up a couple of medals.
I think there will be a lot of British judo fans at the Games and hopefully they'll be knowledgeable enough to get behind our players and know when to give them that extra applause to spur them on.
Nicola Fairbrother was speaking to Olympic sport reporter Jessica Creighton