Continental Cup Final: Belfast Giants beat HK Gomel 5-0 at SSE Arena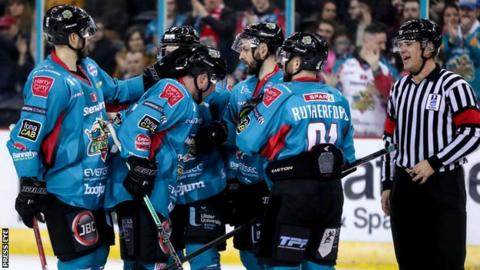 The Belfast Giants got their Continental Cup campaign off to a winning start by beating Belorussian side HK Gomel 5-0 at the SSE Arena.
David Rutherford, Patrick Dwyer, Darcy Murphy, Colin Shields and Chris Higgins were the scorers for the Giants.
The Belfast side are aiming for a first ever European trophy.
They join Arlan Kokshetau at the top of the standings after day one following the Kazak side's 4-2 win over Polish side Katowice on Friday afternoon.
It was a game that the Giants dominated throughout but they found the Belorussians difficult to break down defensively in the early stages.
Giants storm to opening victory
It took a well worked goal at 17:54 of the opening period to ease any nerves when Josh Roach and Curtis Leonard combined to set up a deft deflection from Rutherford in front of the Gomel net that deceived the goaltender as the puck slipped through his pads.
The home side doubled their advantage two minutes into the middle session when Dwyer went for a mazy skate around the Gomel offensive zone and wrong-footed a defenceman, opening up the space for the shot that he buried the into the back of the net.
The Giants third goal came four minutes into the final period on the powerplay when Rutherford's delightful reverse pass was converted by Murphy.
Shields stepped off the bench to join the play and fire in number four shortly afterwards as the one-sided nature of the game continued with Gomel offering little for Giants netminder Tyler Beskorowany to worry about on his way to a shutout.
The final goal came with the man advantage when Higgins, playing his first game since re-signing for the Giants on Christmas Day, tucked in a rebound.
Pre-tournament favourites Arlan Kokshetau defeated Polish side GKS Katowice 4-2 in the opening game.
Kazakstan team Arlan led 3-0 lead after the first period with Konstantin Savenkov, Stanislav Borovikov and Dmitri Potaichuk on target.
Katowice hit back with goals from Niko Tuhkanen and Jesse Rohtla.
The Poles dominated the final period but couldn't find an equaliser and on the break Denis Klemeshov made it 4-2.
Katowice finished runners-up to the Belfast Giants in the semi-final in November.
Arlan Kokshetau play HK Gomel on Saturday at 15:00 GMT, with Belfast facing GKS Katowice at 19:00.
The final round of fixtures take place at 13:00 GMT and 17:00 on Sunday