Ice hockey: Glasgow Clan frustrated after defeat to Manchester Storm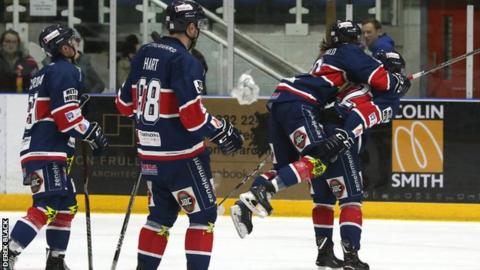 "It just wasn't our night" said Glasgow Clan captain Zack Fitzgerald as his team suffered a frustrating night on Sunday against Manchester Storm.
After a midweek 5-2 win over Sheffield Steelers, they went down 4-2 to Storm.
"I didn't think we were too bad, although the score doesn't reflect that," said Fitzgerald. "We had chances and did a lot of good things."
Elsewhere, Fife Flyers had a win and defeat while Dundee Stars missed out on setting a EIHL unbeaten record.
Stars lost 3-2 in overtime to Sheffield Steelers, giving up a two-goal lead in the last minute.
Flyers got some much needed points against Coventry Blaze, they were taken off them by Milton Keynes Lightning in Sunday's road trip.
Frustrating week for Clan
Just when it seemed like Clan were ready to kick on, along comes another result that sets them back and it was the case this week.
It left Clan skipperFitzgerald still taking the positives, but the sense of not quite getting the job done was certainly clear as he summed up Sunday's defeat to Storm.
"Frustrating is a good word and you want to win those games against a team like that, who've had a long bus ride and should have more energy than them," he said.
"But we take some huge strides against the likes of Sheffield and Cardiff and play really well against them. If we could do that every game, we'd be competitors.
"I'm not saying we aren't, but we need to produce that every night and push in every shift. We've had a great group from day one and we have to stay positive."
MK play their part for mixed Scottish fortunes
Dundee Stars were on the back of a 6-4 midweek win over Belfast Giants when Milton Keynes Lightning rolled into Tayside as Stars got their sixth straight win with a 5-2 success.
Sunday was much harder to take as Sheffield Steelers ended their record equalling run.
Two from François Bouchard seemed to do the job until Justin Buzzeo and Ben O'Connor struck to take the game into the extra period, where Buzzeo killed them off.
Fife Flyers got their second straight win on Saturday as they beat Coventry Blaze 5-2, with Carlo Finucci, Evan Bloodoff, Jordan Buesa, Ricards Birzins and Evan Stoflet all scoring.
However, they couldn't build on it when they lost 4-2 to Milton Keynes on Sunday. Mike Cazzola and Bloodoff both struck to give the away fans something to cheer about in an otherwise miserable trip south for the Kirkcaldy men.
Stats of the week
For the first time since the end of the 2010/11 season, Dundee Stars' win over Milton Keynes Lightning was a record equalling six Elite League wins in a row. They couldn't make it seven on Sunday.
Fife Flyers have now lost four of their last five on the road following Sunday's defeat.
Glasgow Clan forward Matt Beca picked up the two points he needed to reach 200 in all Elite League competition.
Quote of the week
"I think my parents will probably support him though. He's the baby of the family so he'll get the backing based on that." - Before the game, Glasgow Clan's Travis Ehrhardt thought his parents would back his brother, Dallas, who played against him for Manchester Storm on Sunday.