Elite League: Lewis Hook scores twice as Giants beat Stars 6-3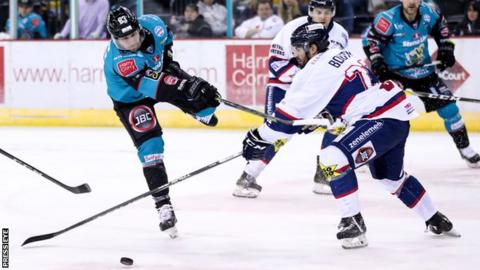 Belfast Giants beat Dundee Stars 6-3 to complete a Scottish clean sweep and stay at the summit of the Elite League.
The Giants scored three times in a five-goal second period to add to their wins over Fife Flyers on Friday and Glasgow Clan on Saturday.
Lewis Hook got two after David Rutherford's opener and Dustin Johner, Blair Riley and Kyle Baun also netted.
Charles Corcoran, Jordan Cownie and Shawn Boutin scored for the Stars, who have won just once in 12 matches.
Dundee beat the Giants 5-3 when the two sides last met on 29 September but the Scottish side have only one win since then while the Giants have lost just once in the same period.
Chasing a 13th victory in 14 games, the Giants scored twice in the first period to take early control.
Rutherford, assisted by Darcy Murphy, opened the scoring in the 11th minute before Baun and Jonathan Boxill combined to create a chance for Hook to double their advantage seven minutes later.
A thrilling second period began with two goals in the opening 61 seconds.
Baun was again involved in the build up to Hook's second goal as the visitors surged further ahead but that score was cancelled out within seconds by Corcoran, assisted by Jordan Cownie and Boutin.
The Giants restored their three-goal cushion with 8:19 gone in the second period with Baun and Curtis Leonard assisting Johner before Riley then pushed them 5-1 ahead less than a minute later.
The home side grabbed a goal just seconds before the end of the middle period as Cownie fired home with assists by Kris Inglis and Brian Hart.
Boutin got Dundee's third after Inglis and Belfast's Paul Swindlehurst had both spent five minutes in the penalty box for fighting but Baun rounded off the scoring with a buzzer beater into an empty net to add to his three assists.
Dundee's next match will be against Sheffield Steelers on 11 November at the Dundee Ice Arena while the Giants will remain on the road next weekend for matches against Nottingham Panthers and Cardiff Devils.