Cardiff Devils aiming for the treble - Todd Kelman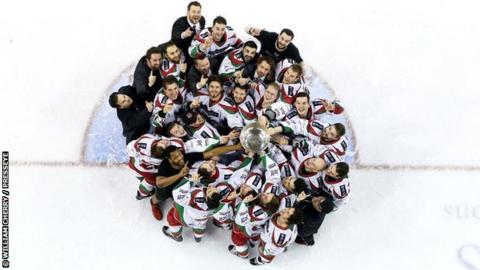 Cardiff Devils' target for the new season is to win the Challenge Cup, Elite League and playoff title, says general manager Todd Kelman.
Devils go into the new season against Nottingham Panthers as the defending Elite League and playoff champions.
And Kelman insisted he was focused on "getting off on the right foot" on Saturday against the Panthers.
"We've missed out on one trophy each year... the ultimate aim is to win all three," Kelman said.
"They [Panthers] look like the in-form team. They've got a new coach in and everyone seems to be playing hard for them.
"We've had a tough go of things as we've had so many Champions Hockey League games so we just want to get our domestic season on track."
Kelman has also spoken out about the career U-turn of their summer signing Tom Parisi, who quit the Devils just three days after arriving.
The New-York born skater said he was retiring to pursue a career outside of ice hockey, but Kelman said his decision will not be a blow to the Devils.
"We never even had him for a game so we completely forgot about him as soon as he left and quit the team," added Kelman.
"I've never seen anything like it to be honest with you. He was excited when he got here and met the guys, then he just left the next day.
"He probably had the decision made but felt like he was obligated to come and see the place as we had signed him earlier in the summer. But really, if he wasn't going to play, he never should have got on the plane."