Humboldt Broncos: Canadian junior ice hockey team play first game since fatal bus crash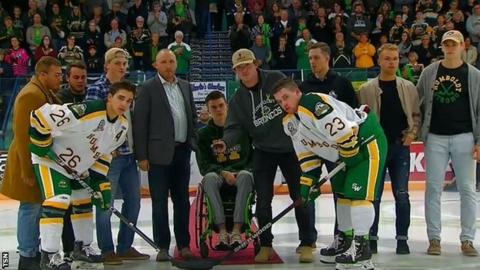 Canadian junior ice hockey team the Humboldt Broncos have played their first game since 16 people, including players and coaches, died in a bus crash in April.
It was an emotional night at the Elgar Petersen Arena, as tributes were paid to those that died and 13 others who were injured.
The Broncos lost 2-1 to Nipawin Hawks - the team they were travelling to play when a lorry collided with their team bus on a rural road in the province of Saskatchewan.
Yellow and green banners were unveiled honouring those onboard the bus, while the players' numbers will be retired.
Eight of the surviving players, who are no longer with the team, took part in a ceremonial face-off with Brayden Camrud and Derek Patter, the only surviving players still with the team.
Former goaltender Jacob Wassermann was in a wheelchair, while Xavier Labelle, who was initially mistakenly thought to have died in the crash, had a large scar across his face.
"I think it is a step in the healing process," said survivor Kaleb Dahlgren, who now plays university hockey in Ontario.
"It definitely helps heal the wounds but it won't for sure heal everything. There is still lots that needs to be done."
Support staff and the team's head and assistant coaches were also among the causalities.
New coach, Nathan Oystrick added: "It was emotional, as I'm sure it was for everyone else, but [they] battled through it."
The Broncos will travel on a bus to Nipawin for Friday's return match.
In July, Canadian police charged a lorry driver involved in the crash.
Jaskirat Sidhu, 29, was arrested on 16 counts of dangerous operation of a motor vehicle causing death and 13 of causing injury.