Braehead become Glasgow Clan ahead of Elite League season
Last updated on .From the section Ice hockey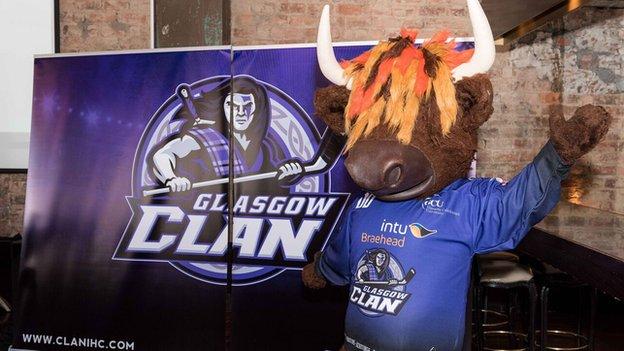 British Elite League ice hockey club Braehead Clan have rebranded themselves as Glasgow Clan and hope that it will help in player recruitment.
New coach Peter Russell is pleased with the signings he has made as he reshapes his squad ahead of the 2018-19 season.
But he stressed: "The first thing you sell is the city."
The Clan have been based at Braehead Shopping Centre on the outskirts of Glasgow since they were established in 2010.
Attendances have increased from around 800 in that first season to more than 3,000 on a regular basis.
But they were ninth in the Elite League last season - their worst finish since entering the British top flight.
And it was felt that, without Glasgow in the title, some potential players and fans were left not realising that the club was based in Scotland's biggest city.
"I think the club had to get some identity back and hence the reason I went for some guys who have played here before and understand the club and the city," Russell, who is also Great Britain coach, said of his recruitment.
"We've got most of the players we wanted and there's still a couple to add."
Intu Braehead will continue to sponsor the club and Clan hockey and operations director Gareth Chalmers insisted that the owners of the shopping centre were understanding of the need to change the name.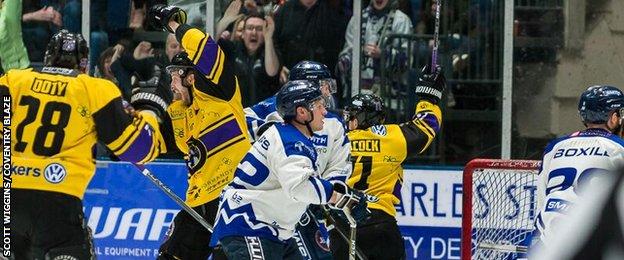 "Obviously we've got a strong connection with Braehead and the shopping centre there and the name has been very important for us in the way we have marketed the club," he said.
"People can get very connected with the name and we were conscious of that. It's important to remember we're still the Clan. We're just called Glasgow Clan now.
"As a club, we've plateaued in the last couple of years and this re-brand will help take us on to the next level."
Clan centre Matt Haywood, who has been with the club since their inception, did not think that dropping Braehead from the title would have a detrimental effect.
"It shows the growth of our identity," he said. "I feel we are still the Clan and we are known as the Clan."
Players returning to the Clan after previous spells at Braehead are American defenceman and new captain Zack Fitzgerald, who has had three seasons at Sheffield Steelers, and Canadian forwards Scott Pitt and Matt Beca from Manchester Storm.
Also joining the Glasgow club are Canadian netminder Joel Rumpel, from Utah Grizzlies, Swedish forward Gerard Hanson, from Manchester Storm, Canadian forwards Scott Tanski and Liam Heelis from Reading Royals and Fife Flyers respectively, plus British forward Jack Musil from Endicott College in the United States.