Belfast Giants to host Continental Cup semi-finals at SSE Arena in November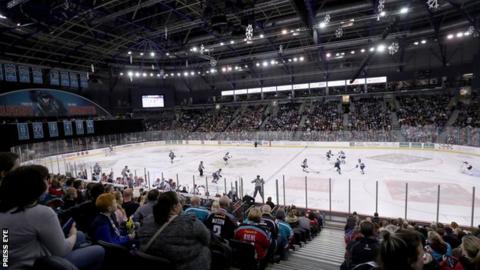 The Belfast Giants will host the semi-finals of the 2018-19 International Ice Hockey Federation Continental Cup at the SSE Arena in November.
Adam Keefe's side will contest Group E, against Croatia's Medvescak Zagreb and GKS Katowice of Poland.
The dates for the competition have yet to be confirmed.
Should the Giants finish in the top two of Group E, they will advance to the Final stage in January in a location still to be decided.
The Giants qualified for the IIHF event by winning the 2017-18 Challenge Cup, defeating Cardiff Devils 6-3 in the final on Sunday 4 March.
The winner of Group B, which takes place in October, will also advance to Group E in Belfast and consists of hosts Ritten Sport, MAC Budapest, Acroni Jesenice and Crvena Zvezda Belgrade.
Belfast have participated in the Continental Cup on three previous occasions, including their first time in 2002-03. when they hosted and won the third round of the tournament to advance onto the Super Final in Milan, Italy and Lugano, Switzerland.
They then took part in the second round in 2012-13 in Landshut, Germany, and then in 2014-15 in Bremerhaven, Germany, when they advanced to the third round in Angers, France.