Ice Hockey: Cardiff Devils re-sign Fournier for fourth season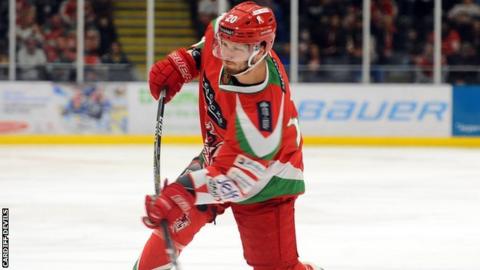 Cardiff Devils have re-signed defenceman Gleason Fournier for a fourth season at the club.
The 26-year-old French-Canadian joined the Devils from ECHL side Alaska Aces in 2016 after a decade of playing in North America.
Fournier was the seventh highest-scoring defenceman in the league last season with 16 goals and 42 assists.
"Gleason is one of the best, if not the best skater in the EIHL," said Devils coach Andrew Lord.
"He has an ability to pick up the puck in his own end and go coast to coast with ease, but his speed lets him always get back into position on defence.
"His skating and offensive skill makes him dangerous every time he is on the ice and he gives us an added offensive element that can catch out a lot of teams."
Devils forward Craig Moore and defenceman Josh Batch have also re-signed, as well as goaltending pair Ben Bowns and Thomas Murdy, however Andrew Hotham has left.
Devils general manager Todd Kelman said the departure of Hotham, who he described as "the best defenceman in the history of the league", is a big loss but it serves as an opportunity for Fournier to get more ice time.
"He [Andrew Hotham] is such a special talent it's hard to say we will find someone who can replace him," said Kelman. "There are very few players you can't replace and he's one of them.
"Fournier re-signing is really big for us, he's one of the top defenceman in the league and after Andrew telling us he wasn't coming back I think Gleason can step up and play an even bigger part this year.
"We definitely needed him back, you need a couple guys who can carry the puck like he does. He's a special talent, probably the best skater in the league.
"It's pretty rare to be able to go through a whole team and control the puck as he does."