Craig Moore: Cardiff Devils re-sign forward for next season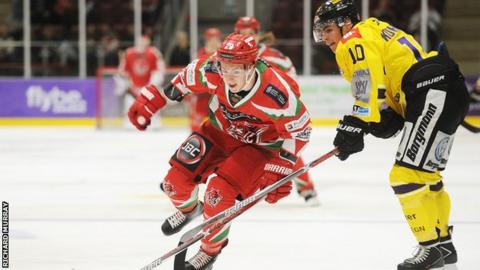 Cardiff Devils have re-signed forward Craig Moore for the 2018-19 season.
Moore joined the Devils last season after two years with Dundee Stars but suffered a season-ending knee injury in a 3-0 win at Belfast Giants on 11 November.
"Craig's injury so early in the season was a big blow for us," Devils head coach Andrew Lord said.
"Once we knew his surgery went well and rehab was on schedule, we knew we wanted him back."
Meanwhile, Devils' Champions Hockey League fixtures have been confirmed, with the British title holders facing Austria's Red Bull Salzburg at home in the first round on 30 August.
Full CHL fixtures (all face-off times local):
Devils v Red Bull Salzburg - home (30 August, 7:30pm)
Devils v SC Bern - home (1 September, 7:00pm)
Devils v Red Bull Salzburg - away (6 September, 7:30pm)
Devils v SC Bern - away (8 September, 7:45pm)
Devils v Vaxjo Lakers - away (9 October, 6:30pm)
Devils v Vaxjo Lakers - home (16 October, 7:30pm)