'I've been lucky' says new Braehead Clan head coach Russell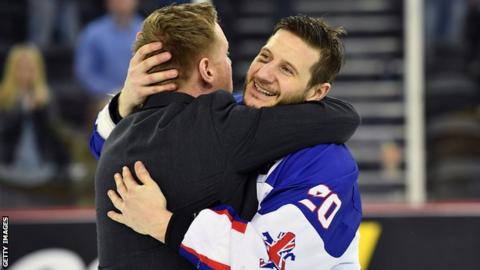 Pete Russell counts himself fortunate to be the beneficiary of an improving Elite League after leading Great Britain to the international top tier.
The 43-year old Scot will begin a new double head coach role next season as he takes charge of Braehead Clan in the UK's top division.
"Everybody else does the work there and I get lucky to get the players," the former goaltender told BBC Scotland.
"I've been pretty lucky down the years. The players are fantastic."
Russell was GB's most successful junior coach, leading sides to four gold, one silver and two bronze medals in 11 tournaments.
He has now steered the senior side to two successive promotions, returning them to the elite level for the first time in 24 years last month.
"We pulled off some big results against some big nations and things just went our way," he said.
"It was probably the biggest day in my hockey career and I think, for all the guys, it was a huge achievement.
"We go to Pool A and potentially you're playing against Canada, Russia, America, Czechs, Finns - it's crazy, just wild.
"It's been a whirlwind, but it's been a great three or four years."
British players have to compete with recruits from around the world in order to play in the Elite League, leading some to suggest young domestic talent is not being encouraged.
"I think the best players are getting picked up," Russell argues while insisting that younger players see that, if they keep improving, they will be given a chance.
"I've been in the national team programme for 15 years and the vast majority of them I have coached at under-18s and under-20s and there's a great camaraderie and a great respect," Russell said.
"There has been a big turnaround in players and some of the historic players and legends we had in the national side have moved aside now.
"These guys have taken their place and it's just fantastic.
"I think the way the Elite League has gone just now, it might not be great for the development of kids, but for the elite player to play in the Elite League and play with such good players in good games every week is definitely raised the profile of the national team in recent years."
Scottish ice hockey had a disappointing season, with Fife Flyers the highest-placed of its four teams in seventh out of 12 and ninth-placed Clan missing out on the season-ending play-offs for the first time.
Meanwhile, Edinburgh looks unlikely to have a team next season after Edinburgh Capitals lost the rights to use Murrayfield Ice Rink and the reformed Murrayfield Racers had a bid to replace them rejected by the league.
However, Russell thought that Flyers and Dundee Stars showed promise and hopes to revive Clan's fortunes after ending his three years with a Milton Keynes Lightning side who themselves finished second bottom of the table.
"When you get offered that job twice, it's not going to come again and I just had to do it," he added.
"It was something I had to tick off - to come home and coach the biggest team in Scotland.
"It is quite an amazing thing for me and it makes me quite emotional.
"A huge arena, a huge fan base and it has all the makings. It is just about rebuilding again in the next couple of years."