GB ice hockey team thrashed by Kazakhstan in World Championship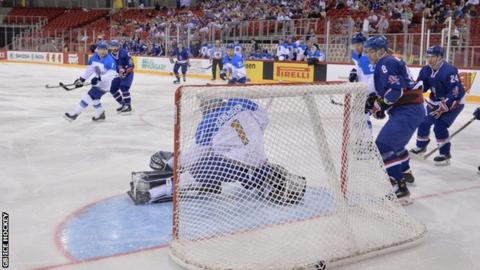 Great Britain's men were thrashed 6-1 by Kazakhstan in the second game of their World Championship campaign.
Luke Ferrara had given Britain an early lead but they were overrun by the Kazakhs, who go top of the group.
GB are in the second tier of the sport but gold or silver at this event will see them join the likes of Canada, USA and Russia at the elite level.
GB, who beat Slovenia in their first game, face Poland on Wednesday in their next round-robin game.
Britain are competing in Division One for the first time in five years after winning promotion in April 2017.
Analysis
BBC ice hockey commentator Seth Bennett
Great Britain crashed back down to earth with a bump as the reality of how tough this tournament is hit home.
When Luke Ferrara scored the opener, Kazakhstan were on the back foot but as hard as GB tried, they couldn't add a second which would have made a huge difference.
Instead Kazakhstan levelled and after an 11 minute wait for the video goal judge to make a decision they took the lead.
That period of time waiting for a ruling knocked GB out of their stride and Kazakhstan took control of the game and never looked back.
The best team won and I fully expect Kazakhstan to go on and win their remaining games.
If that happens the other five team are scrapping for the second promotion spot, which means GB still have a real shot at finishing the top two.
Relegation remains a very real threat for Pete Russell's side, but they have three games to achieve so much more.
Poland are next; a team who GB know very well and, having played them in each of the last few years, they know a positive result is well within their reach.
GB's fate was always going to be decided by their games against Poland, Hungary and Italy, but now two wins from three could be enough to take them to the promised land.