Scott Foster: Accountant makes NHL debut in goal for Chicago Blackhawks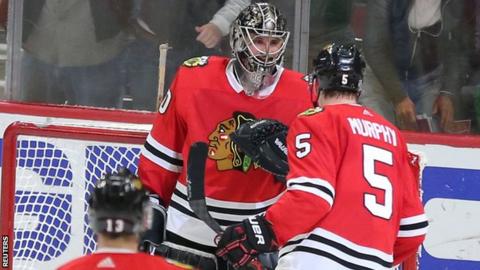 "A few hours ago I was sitting at a computer typing, now I am standing in front of you guys having finished 14 and a half minutes of NHL hockey."
That was how 36-year-old accountant Scott Foster reacted to the series of injuries that resulted in him making his professional hockey debut on Thursday night.
Foster was on his way to the United Centre to watch the Chicago Blackhawks face the Winnipeg Jets in North America's top-flight ice hockey league, when he got the call.
Not only did he play, but his dream was enhanced by a clean sheet and being named man of the match.
Foster is part of a group of amateur goaltenders who rotate as emergency cover at Blackhawks home games.
"I usually head upstairs and watch the game from the press box, have a bite to eat and head home," he said.
First-choice goalie Anton Forsberg was injured in the warm-up then his replacement Collin Delia cramped up in the third period, meaning Foster finally got his chance.
With 14:01 minutes remaining, he entered the rink wearing the number 90 jersey - his first competitive game since playing for Western Michigan University in 2005.
"There is always a chance," said Foster. "You come to enough games, guys do get hurt, but you do not think it will happen to you.
"The initial shock happened when I had to dress. And then I think you just kind of black out after that."
In front of a crowd of 21,839, the father-of-two saved all seven shots he faced as the Blackhawks won 6-2, with the crowd chanting his name.
"I am just about hitting my prime," he joked.
"Tomorrow I will wake up and button up my shirt and go back to my day job," Foster added. "It is something I will never forget. This is a dream."