Braehead Clan spoil Belfast Giants' homecoming party with 5-3 win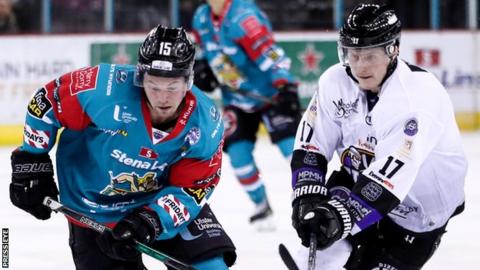 The Belfast Giants had their Challenge Cup victory homecoming spoilt by Braehead Clan on Saturday night as the visitors skated to a 5-3 victory.
After taking the lead through Colin Shields the Giants ran into penalty trouble conceding the next four goals.
The hosts mounted a late fightback with strikes from Sebastien Sylvestre and Brendan Connolly but came up short.
The Giants will face the Nottingham Panthers at home in the Elite League on Sunday at 16:30 GMT.
After the 6-3 win over Cardiff Devils in last Sunday's Challenge Cup Final the trophy was presented to Giants captain Blair Riley at a pre-game ceremony and the home side showed they were not suffering from any celebratory hangover as they dominated the Clan in the opening 20 minutes, out-shooting them 20-5.
They found Braehead netminder Ryan Nie in top form as he stymied them with a string of impressive stops.
It took a fortuitous bounce for the Giants to take the lead shorthanded at 16:24, the puck taking a deflection at the blueline and bouncing high in the air with only Shields able to find it and he skated in to beat Nie and open the scoring.
It took just 47 seconds after the re-start for Great Britain international Brendan Brooks to break clear and tie the game at 1-1 and from that moment on the Giants lost their way.
In all they took 45 minutes of penalties in the second period alone as they lost their discipline and the Clan made them pay.
At 26:07, with a two-man advantage, Tyler Shattock put the Scottish side ahead for the first time and with just 13 seconds left in the middle session Cameron Burt gave them the lead.
The third powerplay marker for the Clan came at 41:32 when Jacob Doty scored to make it 4-1.
Sylvestre's one-timer from between the hash marks closed the gap with 14 minutes to go and when Connolly slammed the puck past Nie with 3:34 left the come back looked on but with goalie Jackson Whistle pulled for an extra skater, Shattock shut the door with the empty netter.