Fife Flyers relieved to end dismal run as Dundee Stars march on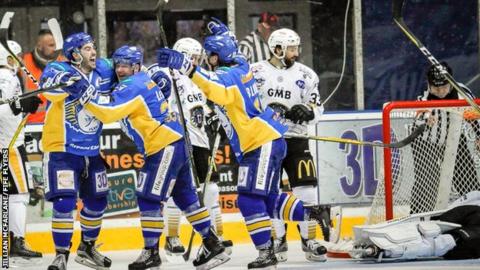 Fife Flyers coach Todd Dutiaume hailed the character of his team as they ended a four-game losing streak - but admits he wondered when their next victory would come.
The Kirkcaldy side returned to third place in the league after Sunday's 3-2 win over Nottingham Panthers.
And he went on to praise his men for what he regards as one of their best performances of the campaign so far.
"Character is the word from the weekend and I'm pleased we seem to have overcome the first adversity we've faced all season," Dutiaume said.
"We'd only lost two in a row before and that happened only a couple of times, so this spell tested our mettle.
"Once you get past three games, you start to wonder where the next win is coming from and to do it against Nottingham Panthers certainly boosts morale.
"We played well against a team that have done well themselves recently and gives us a kick in the backside we perhaps needed for this second half of the season."
Flyers began the weekend in defeat as they went down 4-3 in overtime to Dundee Stars, althought hey took a point as a result of taking the contest beyond regulation time.
Lukas Lundvald Neilsen got the opener for Stars before Peter LeBlanc equalised for Fife, but Brian Hart and Malcolm Gould put Dundee 3-1 ahead.
Dutiaume's men clawed their way back in with goals from Shayne Stockton and Evan Bloodoff, but the comeback was killed off as Cody Carlson netted Dundee's OT winner.
Returning home on Sunday, Fife's spirit was restored as they took the points against the Panthers in style.
Yann Sauvé's opener was overturned by Bloodoff's double before Mark Derlago tied the game at 2-2 as the minutes ticked down.
Ian Young poked home from close range to clinch victory.
If there's another team that's riding quite a wave at the moment, it's Stars, who followed up Saturday's overtime thriller with a 6-3 Sunday win away to Edinburgh Capitals.
That made it eight wins out of their last nine, taking the Dundee side up to ninth and now a point behind Braehead Clan in the race for the play-offs.
Jimmy Jensen, Chris Lawrence, in only his second game after a lengthy injury lay-off, and Marc-Olivier Mimar put them three up in the first period.
Pavel Vorobyev got one back for Edinburgh, but Anthony Mastrodicasa restored Dundee's three-goal advantage before Denis Trakhanov got the Caps' second.
Igor Valeyev's powerplay goal got the Murrayfield side to within one, but further markers from Lundvald and Jensen's second clinched another huge win for the Stars.
For Edinburgh, it was the latest setback after a home weekend that failed to yield any points.
Prior to Dundee's visit, they hosted Guildford Flames on Saturday and were beaten 4-2, despite coming back from two down to level at one point.
John Dunbar and Jesse Craige put Flames two up before Pavel Vorobyev netted twice to get the Caps back on level terms.
However, Kruise Reddick edged them ahead with five minutes to go before Brett Ferguson killed them off with an empty net finish.
Clan were on the road this weekend with two games at Manchester Storm as they looked to return to winning ways after Wednesday's 1-0 defeat by champions Cardiff Devils.
They got the two points on Saturday in a 4-3 win after Stom opened the scoring through Matt Stanisz before Craig Peacock found the target for the Clan.
Scott Pitt restored the home side's lead, but Landon Oslanski equalised again to make it 2-2 and it was the same again for Mike Hammond for the home side and Michal Gutwald.
However, Robbie Lepine was the player to make the difference with the winner to give John Tripp's side a well-earned two points on the road.
They could not repeat the feat on Sunday as Ryan Finnerty's side got the points back in a 5-2 home success.
Like Saturday, Manchester went in front through Ciaran Long before Ryan Potulny put Braehead back on level pegging.
Felix Poulin put the visitors in front, but Storm hit back with as Nate Fleming, Matt Beca, Stanisz and Pitt finished things off to end the weekend on a bittersweet note for Clan.
Weekend results (all league games unless stated)
Saturday
Dundee Stars 4-3 Fife Flyers (OT)
Edinburgh Capitals 2-4 Guildford Flames
Manchester Storm 3-4 Braehead Clan
Sunday
Edinburgh Capitals 3-6 Dundee Stars
Fife Flyers 3-2 Nottingham Panthers
Manchester Storm 5-2 Braehead Clan