Scottish ice hockey: Braehead Clan end Dundee Stars' run, rare win for Edinburgh
By Craig Anderson
For BBC Sport Scotland
Last updated on .From the section Ice hockey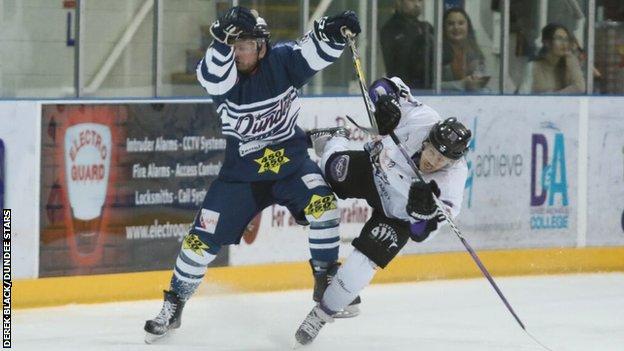 Braehead Clan coach John Tripp roasted his players after Saturday's loss to Manchester Storm - and it worked, revealed player-assistant coach Brendan Brooks.
Clan bounced back from the 5-2 home loss to Storm with a 7-3 win over Dundee Stars to end the Tayside's outfit's run of four straight wins.
But Brooks reckons it is too early to see if it can lead to a run for his team as they fight for a spot in the play-offs.
"After Saturday's loss to Manchester, it was a tough one for us to take; we had a bit of a gut check," Brooks said.
"John pretty much called us out and we responded really well (in Dundee). The two fights in the first period set the tone and we were able to go on from there.
"Whether the win in Dundee can lay the foundation for a good run is early to tell, we have to put a few games together first.
"The possibility is there for us to do it. We just have to find a way to make it happen."
It's fair to say the mood was much different on Sunday compared to Saturday at home when former Clan coach Ryan Finnerty led his Storm team to victory.
Clan went behind twice as Landon Oslanski and Cameron Burt had to cancel out goals from Chris Auger and Matt Beca as both sides were locked at 2-2 after two periods.
But Manchester kicked on in the third as Dallas Ehrhardt's short-handed goal changed the game, with two from Luke Moffatt securing the points for the visitors.
Going up against Dundee Stars, who had won four straight and five in a row at home, looked a much sterner test.
However, Jacob Doty's double got them off to a good start with new signing Robert Lepine getting his first goal for the club to put Braehead three up without reply.
Dundee closed the gap as Omar Pacha and Marc-Olivier Mimar got them to within one, but Clan reopened the two-goal lead with Brooks' double.
Another Mimar goal showed there was still life in the Stars, but late markers from Lepine - for his second - and one from Craig Cescon completed the scoring.
For Dundee, it was a good run while it lasted and their last game of the four-game streak was at Milton Keynes Lighting on Saturday, taking the points in a 4-3 success.
Five goals were traded in the first period as Kevin King's opener was cancelled out by Malcolm Gould of Dundee, before Christian Isackson and another from King put MK 3-1 up.
Gould's second got them back in the game before Lukas Lundwald Neilsen and Gabriel Levesque's winner got them level on points with Lightning, just above them in the table.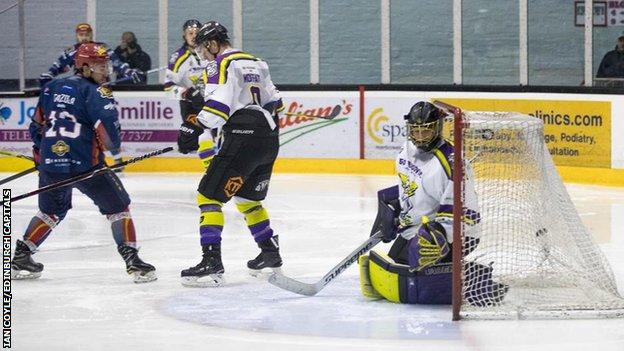 Fife Flyers had a mixed weekend as they inflicted another heavy defeat on Edinburgh Capitals, beating them 6-1 at home on Saturday.
Two from Evan Bloodoff, along with single strikes by Chase Schaber, Ian Young, Liam Heelis and Peter LeBlanc secured a good home win for Fife.
Pavel Vorobyev's goal for Edinburgh in reply did little to dampen Flyers spirits as they headed to Coventry Blaze on Sunday, but returned home from a 5-2 loss.
Todd Dutiaume's side were two down after the opening period through Jordan Pietrus and Brett Robinson before Heelis pulled one back in the second.
Adam Courchaine made it 3-1, before Russ Moyer got another back for Fife, but Coventry completed the job through Ben Lake and Pietrus with his second.
Edinburgh's loss in Fife on Saturday was to be their last in a 15-game winless run as they remain marooned at the bottom of the table.
Spirits were lifted by a hard fought 4-3 home over Manchester Storm, who were fresh from their success at Braehead the night before.
Sergei Banashkov's opening goal was turned around by Storm duo Ciaran Long and Declan Balmer in the first period.
But the Caps swung the game back in their favour through Mike Cazzola and Ainars Podzins as they took a 3-2 lead into the final period.
Ehrhardt struck to level, but a second from Podzins secured a massive win in Murrayfield, delivering a long-awaited first victory for stand-in player-coach Mike D'Orazio.
WEEKEND RESULTS (all league games unless stated)
Saturday
Braehead Clan 2-5 Manchester Storm
Fife Flyers 6-1 Edinburgh Capitals
Milton Keynes Lightning 3-4 Dundee Stars
Sunday
Coventry Blaze 5-2 Fife Flyers
Dundee Stars 3-7 Braehead Clan
Edinburgh Capitals 4-3 Manchester Storm