Ice hockey: Braehead Clan, Dundee Stars, Edinburgh Capitals, Fife Flyers
By Craig Anderson
For BBC Sport Scotland
Last updated on .From the section Ice hockey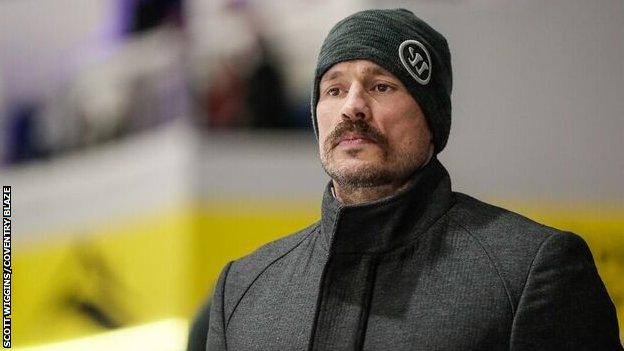 Braehead Clan head coach John Tripp says lack of scoring was a problem for his team - but revealed he'll focus on defensive work in the week ahead.
Their two losses to Sheffield Steelers and Coventry Blaze, the latter in overtime, made it three defeats in a row as their recent run of good form that yielded five wins dried up.
And despite netting three on Saturday in Coventry, Tripp's concerns weren't eased as he looked ahead to a tough schedule coming up.
"It wasn't a strong weekend from us when you consider the aspects of why it wasn't, but we have tough games coming up, against Guildford, Sheffield and two against Cardiff," he said.
"I wasn't happy at the lack of scoring on Friday and Saturday didn't really alleviate that, as we didn't score enough to win the game in the end.
"Coventry had lost seven in a row going into Saturday and we didn't want to be the team that broke that spell, but we were. The goals we lost were individual mistakes.
"Defensive play though will be the priority going into practice this week as that's what left us wide open, as well as hard work and being accountable."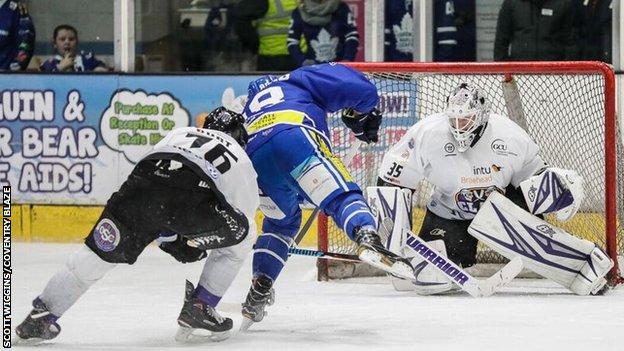 After a 3-0 loss to Nottingham Panthers last week, Clan knew a stern test awaited with Sheffield Steelers' visit on Friday.
Mark Matheson's first-period opener for Steelers was cancelled out by Tyler Scofield, but Ben O'Connor restored the visitors' advantage in the middle session.
Matt Marquardt and Mathieu Roy made sure of the victory as Braehead began the weekend in disappointing fashion.
They made the journey to Coventry Blaze and while they got themselves a point, it was another loss on the board as they went down 4-3 after overtime.
A tight game could have gone either way as Marc-Olivier Vallerand's opening goal for the home side was levelled by Landon Oslanski for the Clan.
Mike Embach put Braehead 2-1 ahead, which was pegged back by Ross Venus before Adam Courchaine and Brendan Brooks traded goals in the third period.
The extra period was needed, but Jordan Pietrus struck after a minute to keep the second point in Coventry, leaving Clan now without a win in three.
Blaze then headed to Murrayfield on Sunday where Edinburgh Capitals were waiting for them, looking for their first win in three.
Despite the hosts going two up through Juris Upitis and Nikita Kolesnikovs, Coventry came from behind to win 4-2, with two from Pietrus and one each from Ben Lake and Vallerand.
Stars end losing run
Dundee Stars have also struggled in recent weeks, ravaged by injury and struggling for form, ahead of Saturday's visit to Milton Keynes Lightning.
However, they were effectively beaten after the first period when MK raced into a four-goal lead through Matt Nickerson, Guillaume Doucet, Kyle Essery and Francis Verrault-Paul.
Brian Hart salvaged a consolation in the third period, but Tommy Mele's empty-net goal secured what turned into a comfortable two points for Milton Keynes.
Stars returned home on Sunday to face Manchester Storm and ended their seven-game losing run with a 5-3 home win over the former league leaders.
Both sides traded two goals each in the first period as Gabriel Levesque and Jimmy Jensen saw their respective finishes cancelled out by Dane Byers and Mike Hammond.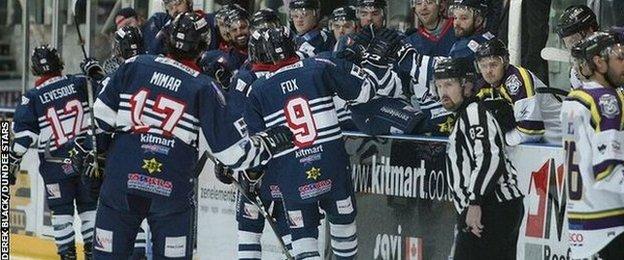 While Scott Pitt edged Storm in front, Dundee turned it around in the third period to secure much-needed points.
Riley Stadel, a second from Levesque and an Adam Harding empty-netter against his old team made it a great night for Omar Pacha's side.
Flyers maintain winning run
After their blitz of Dundee on Saturday, Milton Keynes made their way to Kirkcaldy on Sunday to face Fife Flyers, who were going well on the back of three straight league wins.
Todd Dutiaume's side made it four with a 5-2 home win although it was level after the first period as Chase Schaber for Fife and Doucet traded goals for either side.
Flyers clicked into gear in the second with four goals that sealed the game, as two from Peter LeBlanc and one each from Ricards Birzins and James Isaacs put them 5-1 up.
Denny Kearney fired in a second for Lightning but Fife celebrated another good victory in a terrific campaign so far.
Weekend results
Friday
Braehead Clan 1-4 Sheffield Steelers
Saturday
Coventry Blaze 4-3 Braehead Clan (OT)
Milton Keynes Lightning 5-1 Dundee Stars
Sunday
Dundee Stars 5-3 Manchester Storm
Edinburgh Capitals 2-4 Coventry Blaze
Fife Flyers 5-2 Milton Keynes Lightning