Nottingham Panthers: Champions Hockey League run shows club have 'arrived'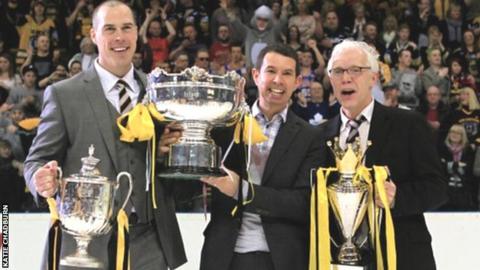 Nottingham Panthers owner Neil Black says his side's run to the last 16 of the Champions Hockey League shows they can compete with the best in Europe.
Panthers were the lowest-ranked team in the 32-team tournament, but reached the last 16 before being beaten over two legs by Swiss side Zurich.
Black told BBC Radio Nottingham: "I think it's been terrific for the city, the club and the sport in this country.
"I think we have truly arrived as one of the big clubs in Europe."
Panthers won Group F with four wins in six matches, including victory over fourth seeds Bern, who have since gone on to reach the quarter-finals.
Nottingham were beaten 6-1 over two legs by ZSC Lions, a team who have individual players who earn more than the whole of the Panthers roster.
And Black believes Nottingham's fairytale run to the last 16 of European ice hockey's premier tournament has really put the club on the map.
"We are never going to be like football or rugby, but we can do really well with this kind of following," he continued. "We have an exceptionally fantastic building, a brilliant city and a brilliant fan base.
"We are not out there on our own. There will now be a number of clubs in the Elite League who will be looking at us and thinking they can be in this space next year.
"The good thing about the way the tournament is set up is that we know at the Panthers we have to win the league to be back here next year."
Nottingham were also part of the inaugural CHL tournament four years ago, when they accepted a spot after Belfast Giants turned down the opportunity.
Black says there was never any doubt the Panthers would take part back in 2014-15, despite knowing it would cost the club money, and he revealed this season's campaign has been more beneficial.
"We had no hesitation at all," said Black. "This is what the Panthers fans expect and we have a fantastic fan base.
"It would be absolutely ludicrous for us to turn down the opportunity to play in a tournament like this.
"When we started the first time the cost implication was negative, but by reaching the last 16 this season I am pleased to say the cost implication was no longer negative.
"We got through the group stage and it allowed us to bring in a fantastic goalie in Patrick (Galbraith). Once you are in this tournament and playing these games, it's great for the players, it's fun for the fans and it's good for the city. It's a win-win situation."