Paul Phillips: MK Lightning 'can be the best' in Elite League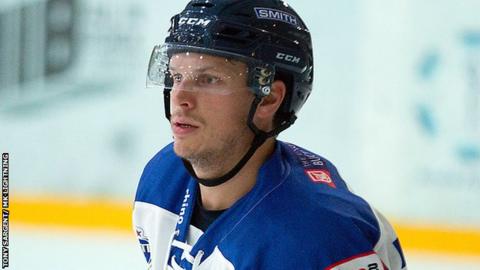 MK Lightning defenceman Paul Phillips believes they are good enough to compete at the top of Ice Hockey's Elite League.
Lightning have won three of their seven league matches this season and are unbeaten at home.
They made the step up to the UK's top flight after winning two trophies last season.
"There is no reason why we can't be top of the league," Phillips told BBC Three Counties Radio.
"We've got all the tools and a great coach."
The 26-year-old joined from league leaders Manchester Storm over the summer, as one of 14 new recruits, and thinks Lightning can improve even more.
"We've got high goals for ourselves. Just because it's the first year for the team, there's no reason why we shouldn't be the best team on every single night."
The team have been short on numbers in recent fixtures, with defencemen Kevin Gibson and James Griffin, as well as forwards Ludwig Karlsson, Christian Isackson and Francis Verreault-Paul all out injured.
"Obviously we've had a few lapses and we've had some tough games - that's like every team - and moving forward we're just focusing on how we can get better every day," Phillips said.
"I never want to think of us as underdogs or anything like that but on the other side of things, it's only natural with it being our first year in the league, being new to everything.
"It would be normal for a team to struggle, but it's just been a great start for us."