Corey Neilson: Nottingham Panthers promise no let-up in Finland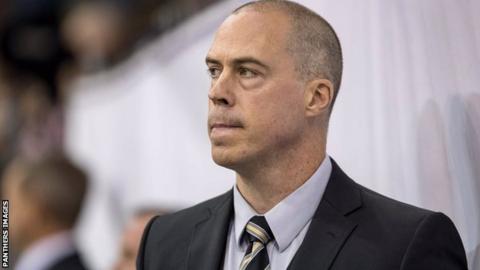 Coach Corey Neilson says Nottingham Panthers have no plans to 'take their foot off the gas' in their final Champions Hockey League group game.
Panthers, who have become the first UK side in history to qualify for the CHL knockout stages, are in Finland to face Turku in Group F on Tuesday.
Neilson, whose side have already won the group, told BBC Nottingham Sport: "We won't be taking this game lightly.
"We have a huge desire to win our final group game in the CHL."
Panthers' reward for winning the group is home advantage in Friday's last-16 draw, which means the second leg will be played in Nottingham.
The higher the points tally of sides in the knockout stages, the better their seeding as the tournament progresses.
"What we have achieved so far is fantastic and we don't plan on letting up now," said Neilson.
"We have already had so many special moments in the CHL and we want to create another in Turku."
Denmark international netminder Patrick Galbraith, who signed for the club last week, has travelled with the team and will make his Panthers debut in Finland.