Ice hockey: Bad weekend for Braehead Clan and Dundee Stars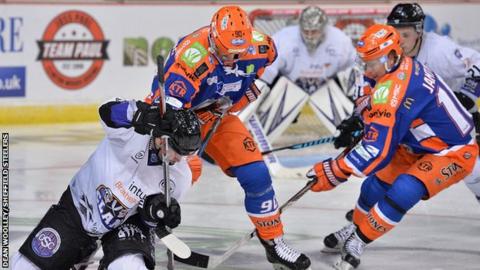 Braehead Clan coach John Tripp says his team are getting back on the right road, despite a mishap with the team's bus.
The Glasgow side suffered a breakdown en route to Sheffield on Sunday, having to wait almost two hours for their replacement ride near Carlisle.
And although their final destination was a 3-2 loss to the Steelers, the Clan coach saw an improvement from Saturday's disastrous 7-1 thrashing by rivals Fife Flyers.
"After Saturday, the last thing we needed was the bus breaking down on us," Tripp said. "That's never happened to me in all my years in the game.
"Sunday's game was much better and a different outcome compared to Saturday and I was content with the production of the players and the focus.
"There are still a few hiccups, but the guys definitely stepped up and to come into Sheffield and play as tight a game as we did, they did a good job after losing 7-1 the night before.
"There are foundations to work from and we can be pleased with the effort, but not so much the overall outcome."
Clan would have hoped Fife's bus never left Kirkcaldy on Saturday night when their first home game in five weeks was one to forget as the Flyers romped to a 7-1 success.
Todd Dutiaume's men put themselves in a commanding position early in the game and did not relent.
Four from Evan Bloodoff and one each from Charlie Mosey, Chase Schaber and Ricards Birzins had them seven up without reply.
Tyler Shattock added a late one for Clan, but by then Fife's victory had long been completed, sending the Purple Army home in a miserable mood.
Tripp's side regrouped on Sunday and despite their lengthy stop just over the border, had plenty to be positive about despite going down 3-2 to the Steelers.
John Armstrong and Jonathan Phillips put Sheffield two ahead, but Braehead pulled it back with strikes from new signing Ville Hämäläinen and Ryan Potulny to make it two apiece.
Andreas Valdix scored one late in the second period, which effectively turned into the game-winning goal as the Steelers claimed the Challenge Cup points.
Fife, who had been so rampant in Glasgow on Saturday, returned home for Sunday hoping to make it two consecutive four-point weekends.
On a four-game winning run, confidence high and visitors Guildford Flames having an epic nine-hour trek to contend with, it was all set for the Flyers to take the league points.
However, Flames were not in generous mood as they won 5-3 to clinch a maximum point weekend for themselves, following up Saturday's overtime success over Coventry Blaze.
Kruise Reddick put Guildford two up, with Mosey firing one back in response, only for Jeremy Lundin restored the away team's two-goal lead.
Liam Heelis pulled it back again, but Rhett Rachinski made it 4-2 and although Peter LeBlanc struck for Fife, John Dunbar's empty net goal killed Fife off in the end.
Edinburgh Capitals also got themselves a four-point weekend, beating Dundee Stars twice, in the league on Saturday then in the Challenge Cup on Sunday.
Their 7-2 victory on Tayside was impressive as Pavel Vorobyev, Dylan Anderson and Marek Tvrdon put Edinburgh three up before Stars hit one back through Malcolm Gould.
Mike Cazzola made it four, with Sergei Banashkov, another from Cazzola and a marker from Julius Nyqvist making the scoreline emphatic for the Caps, despite a late one from Gould.
Back to Murrayfield, it was more of the same when they met on Challenge Cup duty, but once again Dmitri Khristich and his team were celebrating by Sunday night.
Banashkov and Anderson were on target to put Edinburgh two up and despite Gabriel Levesque's third period goal for the Stars, the Caps managed to close it out and take victory.
Weekend results
Saturday
Elite League:
Braehead Clan 1-7 Fife Flyers
Dundee Stars 2-7 Edinburgh Capitals
Sunday
Challenge Cup Group A:
Edinburgh Capitals 2-1 Dundee Stars
Sheffield Steelers 3-2 Braehead Clan
Elite League:
Fife Flyers 3-5 Guildford Flames