Robert Lachowicz: Nottingham Panthers 'proved they are good enough'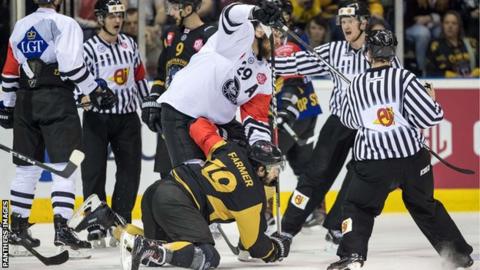 Nottingham Panthers "proved they were good enough" after securing a place in the last 16 of the Champions Hockey League, says forward Robert Lachowicz.
Panthers beat Turku 2-0 on Tuesday to become the first UK team in history to reach the CHL knockout stages.
They will top Group F if they win in Turku next week, or if Bern fail to beat Mountfield on Wednesday.
"It's unbelievable. We've had a big results already, so we knew we are good enough as a team," said Lachowicz.
"We proved to anyone who thought there were fluke wins that we are good enough to beat these teams in Europe."
The victory over Turku was their fourth in five games.
VIDEO: Former Panthers defenceman Sam Oakford talks with Robert Lachowicz
Three years ago, Panthers became the first UK side to win a game in the CHL when they defeated German side Hamburg 3-1.
Lachowicz scored a wonder goal that night and he believes UK ice hockey has come a long way.
"That was a big result back then but I don't anyone thought hockey would develop over here where we are pushing to win the group," he added.
"Even when we beat Bern and we beat Mountfield this season, we were never certain we were going to go through.
"We are a good team and chemistry is so good in the room and there's no reason we don't deserve to be there."
Analysis
Former Panthers defenceman Sam Oakford
I knew with 10 minutes to go that Panthers had won the game. They were keeping Turku to the outside.
Everyone looks so confident and everyone is making the right play. The way the defence moved the puck to the forwards, it's impressive.
I think any team who comes to Nottingham is not going to want to play here - they play physical, they play hard and they play proper hockey.
I fancy their chances going forward in the next stage.