Elite League: Manchester Storm 2-1 Belfast Giants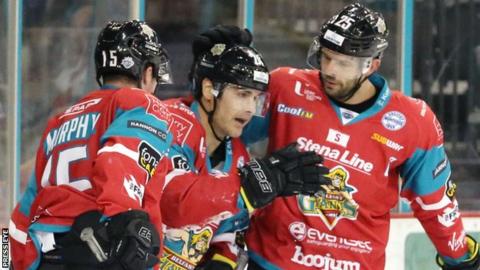 Belfast Giants suffered their second defeat of the weekend as Manchester Storm came from behind to snatch a 2-1 Elite League win in Altrincham.
After Saturday's 6-4 home Challenge Cup defeat by Edinburgh, Belfast took the lead on Sunday thanks to Jonathan Ferland's early goal.
But after a goalless second period, strikes from Paul Swindlehurst and Jay Rosehill secured Manchester's win.
Belfast's next game will be Saturday's Elite League contest in Cardiff.
Ferland's fourth-minute goal put the Giants ahead and Storm keeper Mike Clemente made a number of good saves to keep his side in the game.
Both teams produced some stout defending in the second period but Manchester levelled with just over 10 minutes remaining as Mike Hammond's pass set up a charging Swindlehurst to fire to the net.
Little over two minutes later, Manchester were in the lead as Rosehill fired past an outnumbered Jackson Whistle.
The Giants produced frantic late pressure but Manchester held firm to close out the win.