Elite League: Nottingham Panthers 5-4 Belfast Giants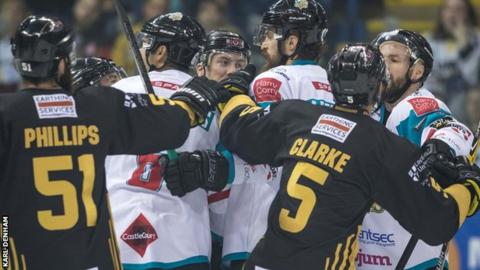 Belfast Giants missed the chance to go top of the Elite League after this narrow defeat by the Panthers at the National Ice Centre on Wednesday night.
Darcy Murphy gave Belfast an early lead but the hosts hit back with three goals to end the first period in control.
Sebastien Sylvestre pulled one back only for the Panthers to restore their two-goal advantage.
Colin Shields and Brendan Connolly were on target to make it 4-4 before Robert Farmer scored the Nottingham winner.
Missing Stephen Murphy, Dustin Johner, Cole Jarrett and Jim Vandermeer, the Giants lost for the first time in five games.
The Giants got off to the best possible start when Murphy scored after only 100 seconds, assisted by Matt Towe and the returning Jeff Mason.
Panthers take charge
However, the lead was short lived as Robert Lachowicz equalised 42 seconds later, assisted by Ollie Betteridge and Yann Sauve. Evan Mosey put the Panthers in front at 5:41 when he netted, assisted by Mark Derlago and Zack Phillips.
With referee Hogarth sending Sylvestre and Spiro Goulakos to the penalty box, the Panthers took full advantage with David Clarke scoring on the resulting five-on-three powerplay at 10:19.
Coach Adam Keefe called for the Giants to become 'road warriors' and his team responded during the middle period.
Sylvestre pulled the visitors to within one goal of the Panthers at 29:18, assisted by Jonathan Ferland and Connolly.
The Panthers moved two clear again through Raphael Bussieres on the powerplay at 33:04, assisted by Tim Billingsley and Josh Shalla.
Shields struck with a powerplay goal of his own for the Giants, assisted by Brendan Connolly and Goulakos, as the away side refused to lie down.
Connolly turned from provider to scorer at 38:12 when his goal near the end of the second period tied the game at 4-4, assisted by Ryan Martinelli and Colin Shields.
However, it was to be Nottingham who would take a lead into the final period as Farmer's deflected shot ended up in the Giants net, assisted by Shalla and Brett Perlini at 39:19.
The Giants, playing their third game inside five days, went in search of another game-tying goal in the third period, only to find Panthers goalie Michael Garnett in impressive form.