BBC Sport - Elite League: MK Lightning put faith in new-look squad for top-flight debut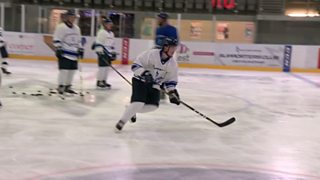 Lightning put faith in new-look squad
MK Lightning are raring to go after making the step up to ice hockey's top-flight competition, as they begin a new season in the Elite League.
The Buckinghamshire team, who have recruited 14 new players from around the world, won two trophies last season.
With a higher league comes higher costs - the club has seen its budget increase by 40% this year to cope with new league demands.