Mixed start to Braehead Clan season as Dundee Stars win in Challenge Cup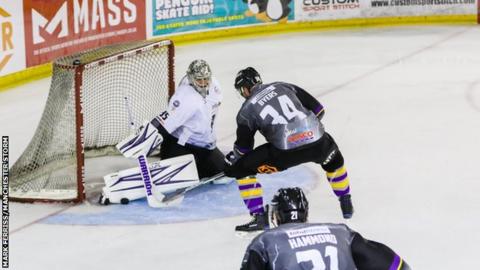 Braehead Clan coach John Tripp lamented his leaky defence as they had a mixed start to their curtain-raising weekend in the Elite League season.
Two games with Manchester Storm - now coached by former Clan boss Ryan Finnerty - yielded a victory and a defeat as they kicked off their Challenge Cup campaigns.
But, with as many as five new players still to come in - three are awaiting work permits - there were reasons to be positive for Tripp.
"Winning on Saturday as well as we did was great for the fans but a lot more stressful for the coaches," he said. "It was too many goals in my mind.
"We had to roll three lines, with players still to come in, and the guys persevered and played a lot of minutes.
"I was pleased with the reaction from the loss to Manitoba on Thursday and the guys showed me they want to win and that was pleasing. But I hate losing and we'll work hard this week."
The sight of former Clan coach Ryan Finnerty on the opposing bench was one to get used to as the Challenge Cup fixtures threw up a quick return to Glasgow for the Canadian.
Clan won 7-5 in an enthralling first game, having had the best of starts when Mike Embach and Jacob Doty punished two Storm penalties to give the home side a 2-0 lead.
However, Finnerty's men rallied to take the lead thanks to goals from Mike Hammond, Matt Bissonnette and Dane Byers.
Braehead swung the game back in their favour through Embach and Doty again, followed by Byers adding his second and Manchester's fourth.
The Clan kicked on in the third period as Cameron Burt and Christoffer Bjorklund put them 6-4 in front and, although Matt Beca added Storm's fifth, Adam Brace settled the game late on.
Clan went to Manchester on Sunday in the reverse fixture, but the lack of depth in the team told as Storm secured a 4-1 win.
Hammond's opener was cancelled out by Doty as both teams traded early goals, but Finnerty's side pushed on through Beca, Paul Swindlehurst and Byers to take the win.
Dundee Stars were the only other Scottish team in competitive action at the weekend and opened with a 3-2 penalty shots victory over Belfast Giants in the Challenge Cup.
Omar Pacha got a great start to his role as Dundee's coach but had to play the patient game after Colin Shields opened the scoring for the visitors.
Riley Stadel equalised for the Stars, but Brendan Connolly fired Belfast in front a second time before Adam Harding squared things up again with 26 seconds left of regulation time.
Overtime couldn't separate them and it was Stadel with the cool head, converting the penalty shot that separated the teams and confirmed the points for the Stars.
Pacha took his team to Edinburgh Capitals on Sunday in an exhibition game as he and Murrayfield counterpart Dmitri Khristich looked to try out different lines.
The Caps came from two goals down to clinch a 3-2 penalty shots win.
Fife Flyers were also involved in friendly action, winning one and losing one in their two meetings with Danish side Herlev Eagles in Kirkcaldy.
Weekend results
Saturday
Challenge Cup, Group A: Braehead Clan 7-5 Manchester Storm
Challenge Cup - Group B: Dundee Stars 3-2 Belfast Giants (PS)
Exhibition game: Fife Flyers 3-1 Herlev Eagles
Sunday
Challenge Cup, Group A: Manchester Storm 4-1 Braehead Clan
Exhibition game: Edinburgh Capitals 3-2 Dundee Stars (PS); Fife Flyers 1-4 Herlev Eagles.