Nottingham Panthers coach Corey Neilson leads Elite League club to European win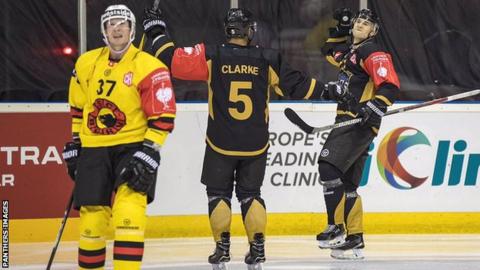 Nottingham Panthers head coach Corey Neilson says Saturday's victory over Swiss side Bern was the best quality he has ever seen at the Nottingham Arena.
Panthers, the 32nd and lowest seeds in the Champions League, beat the fourth seeds 4-2 to go top of Group F.
Neilson told BBC Radio Nottingham: "It was certainly the best quality ever seen in this arena. It is early days yet but it was a pretty wicked game.
"Bern are outrageously good and right now we're pretty good."
The top two from each group qualify for the knockout stages and Panthers need one win from their final two games - home and away against Finnish side TPS Turku - to guarantee qualification.
Panthers have now won three straight matches in the CHL and Saturday night's result - against a side with a far superior budget to their own - was one of the biggest results in their history.
Neilson was keen to acknowledge the part the supporters played as Panthers came from 2-0 down against the Swiss champions.
"The fans were amazing and the energy in the building was outrageous," Neilson continued.
"Right now we have a really young group with excitement, energy and it's a group that wants to learn.
"I had an agent telling me during the summer he wasn't going to send a player to us as we were the 13th-ranked league in the world, I would just love to call him at this moment.
"The Elite League gets better every year since I have been here. I couldn't play at this level anymore. These guys are special hockey players."