Brett Perlini ready for new chapter with Nottingham Panthers
Last updated on .From the section Ice hockey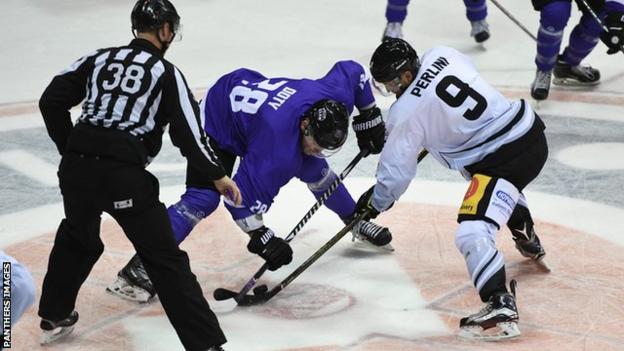 The name Perlini is well known not just in UK ice hockey but across the world and 27-year-old Brett Perlini is ready to start a new chapter with Elite League side Nottingham Panthers.
Not many British players get drafted in the NHL but Brett and his younger brother Brendan have both been drafted, with Brett being picked in the seventh round by Anaheim Ducks in 2010.
Brendan, 21, was amongst the top prospects in the 2014 draft, being picked 12th in the first round by Arizona Coyotes and he had his breakthrough in the NHL last season.
Brett's dad, Fred, played for the Panthers in 1986-87 and went on to ice for numerous clubs in the UK, including Fife Flyers, Streatham Redskins and Guildford Flames.
The family tradition does not end there though - Brett's uncle, Kevin Conway, played for some of the biggest names in British ice hockey between 1985 and 2007, including Ayr Bruins, Durham Wasps, Basingstoke Bison and Newcastle, while his cousin, Scott Conway, is currently playing in the NCAA in North America with Providence College.
The Perlini brothers are proof that players from the UK can make it in some of the best leagues in the world.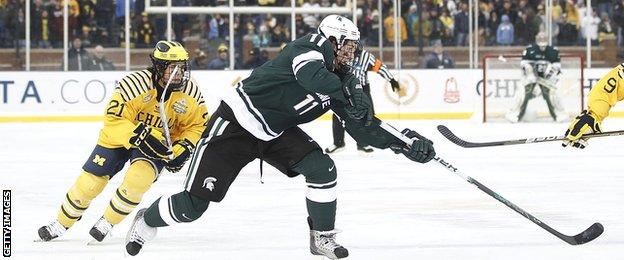 "I got drafted as a 20-year-old. I expected it the year before but it didn't happen," said Brett.
"I was in the United States golfing and we had just finished my round. I had my Canadian mobile on me and one of my mates texted me congratulations - and then they told me at the clubhouse that I had been drafted.
"I immediately thought of the people who helped me get there. I definitely thought back to my England days and all the different coaches I had. It was a huge part of helping me get there."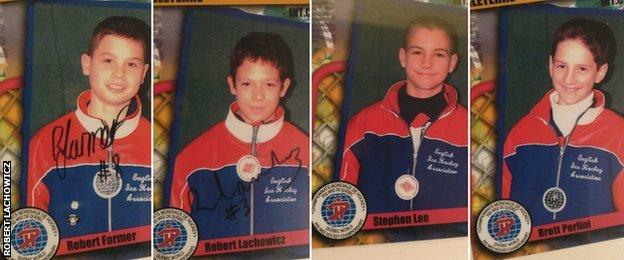 Perlini was part of a bit of history in 2003 when he helped England win a prestigious Pee-Wee international hockey tournament in Quebec.
Playing alongside current Panthers players Robert Farmer, Robert Lachowicz and Steve Lee, as well as former players Joe Graham and James Neil, the 11 and 12-year-olds lifted the famous junior trophy.
Perlini was brought up in Guildford and played for their junior organisation, before heading off to North America as a teenager to try to make it in the top leagues.
But how was a little English kid received across the Atlantic?
"At first I think people would look and go 'oh this guy is from England', so you definitely have to do your talking on the ice," Perlini said.
"You just need to go out and score a couple of goals and then they go 'oh yes, he's legit'.
"I think a lot of the kids in this country think the Canadians are so good at hockey, which they are, but a lot of kids from the UK are right there with them."
Brett's younger brother, Brendan, is a classic example with the 21-year-old appearing 57 times for NHL side Arizona Coyotes last season, scoring 14 goals and contributing seven assists for 21 points.
"I think the young kids should look at the North America route, like my brother and I took, and my brother is a good example," continued Perlini.
"He played hockey in England and now he is in the NHL, so it definitely can be done and hopefully that can inspire young players."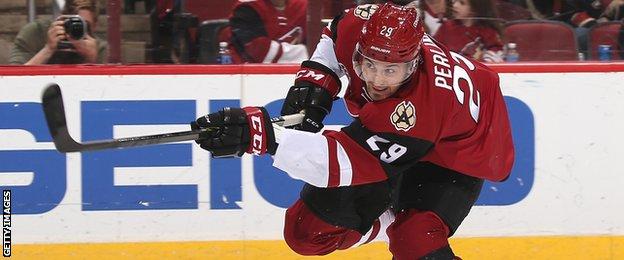 Brett made his Panthers debut on Saturday against German side Krefeld in an international challenge game - a game Panthers won 3-2 in overtime - and scored the following night in a pre-season 4-2 victory over Braehead Clan.
His competitive debut will come when Panthers play their first two games in this season's Champions Hockey League, on the road at SC Bern on Thursday and at Mountfield on Sunday.
And Perlini revealed his dad was so excited when he told him that he would be following in his footsteps in joining the Panthers.
"I'm excited to play in Nottingham. They have always been a top club and a well-run organisation," Perlini said.
"My dad really lit up when I told him I was coming to Nottingham, he got a whole bunch of messages. It is kind of like déjà vu, but just 30 years later for me.
"He came over about the same age as me and he has told me all types of stories. It is pretty crazy that I am here now."