Ice Hockey World Championship: GB Women lose 5-4 to Netherlands in Group A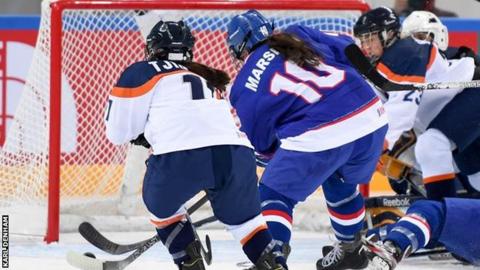 Great Britain Women suffered a 5-4 defeat to the Netherlands in their opening Group A game in the World Championship Division Two in Korea.
The Netherlands scored after just 31 seconds and built a 3-1 lead at the Kwandong Hockey Centre.
Katie Marsden scored twice for GB and captain Leanne Ganney made it 3-3 before the Dutch went two clear again.
Kim Lane scored after Marsden's shot was saved to reduce the deficit again but GB could not find an equaliser.
"We are very disappointed," GB assistant coach James Ashton said. "For whatever reason, defensively we didn't do what we normally do.
"I think some of the players were nervous and I don't think it is anything more. I don't think anyone was jet-lagged or tired."
Britain next play hosts South Korea on Monday. They also face North Korea, Slovenia and Australia in the group stage.