Elite League: Belfast Giants beat Sheffield Steelers 5-4 to complete weekend double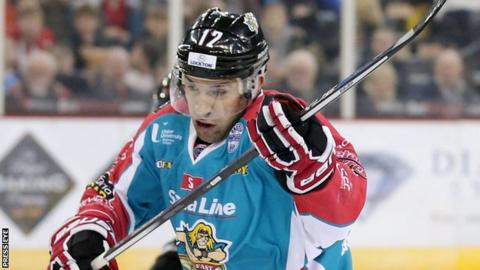 Steve Saviano scored two late goals to help the Belfast Giants to their second Elite League win of the weekend away to the Sheffield Steelers on Sunday.
The Giants prevailed 5-4 to maintain their title challenge and remain one point behind leaders Cardiff Devils, who defeated Fife Flyers 2-1.
Alex Foster, Blair Riley and David Rutherford also netted for the Giants who recovered from a 2-0 deficit.
Luke Ferrera, Mathieu Roy, Levi Nelson and Yared Hagos scored for Sheffield.
Belfast trailed 2-1 after the first period thanks to goals from Ferrera and Roy for the hosts, Foster replying for the visitors.
Riley slammed home a rebound high into the Steelers net and Rutherford nudged the Giants ahead after James Desmarais broke into the zone and dished the puck to the eventual scorer.
Seven minutes into the third period, Nelson scored for Sheffield backhanded into the net following a rebound but four minutes later Saviano picked up a loose puck and slammed into the net.
Saviano grabbed his second after a nice offload from Desmarais, with Hagos finding the net for a late consolation with 57 seconds remaining.
The Giants had beaten Sheffield 5-2 on Saturday night at the same venue thanks to two goals from Rutherford and one apiece from Chris Higgins, Michael Quesnele and Brandon Benedict.
The Giants take a break from league action now as they prepare for the first leg of their Challenge Cup semi-final away to Cardiff Devils on Wednesday night.
Next weekend Derrick Walser's side travel to Scotland for back-to-back away games against the Braehead Clan on Saturday and against the Edinburgh Capitals on Sunday.