Corey Neilson: Nottingham Panthers win 'shows how far Elite League has come'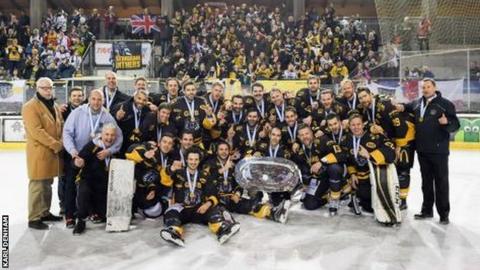 Nottingham Panthers head coach Corey Neilson says his side's European Continental Cup win shows the progress Elite League ice hockey has made.
Panthers beat hosts Ritten 4-1 on Sunday to become the first British team to claim a major European title.
The previous best showing by a British side in Europe's second-tier event was Sheffield's third-place finish in 2010.
"I just feel like as a club we've really been trendsetters and now this is the next stage," Neilson said.
"It's just such a special thing to be able to compete on the international stage and show not only how good the Nottingham Panthers are, but how far the league has come."
Nottingham, currently fourth in the Elite League, have now qualified for next season's Champions Hockey League, the top ice hockey competition in Europe.
They have also won one league title, six Challenge Cups and four play-off titles under Neilson, who took over from Mike Ellis in 2008.
"What we've built is a championship machine really and we continue to do it time after time," he told BBC Radio Nottingham.
"It's credit to not only what I'm doing but the players and the staff, and the organisation continues to make steps to get better.
"When there's an area lacking, I'm always given support to bring in people and it's really been a great time here, a privilege."