BBC Sport - Friendship Four teams for 2017 & 2018 revealed at Boston news conference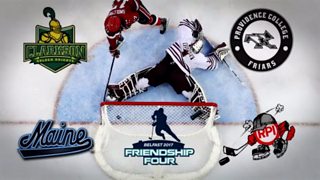 Friendship Four teams for 2017 & 2018 revealed
The eight college teams coming to Northern Ireland in 2017 and 2018 to compete in the annual Friendship Four tournament at the SSE Arena in Belfast are announced.
Providence College, the University of Maine, Clarkson University and Rensselaer Polytechnic Institute will be the four teams making the trip over from the States for the 2017 competition.
In 2018, Boston University and the University of Maine will be joined by Yale and Union College.
The second Friendship Four tournament in November attracted more than 22,000 fans to the SSE Arena and the success of the first two years of the event saw it renewed for another two years.
In 2016, UMass Lowell won the inaugural competition, while last year saw Vermont triumph and take home the Belpot trophy.