Challenge Cup quarter-final: Belfast snatch overtime win over Manchester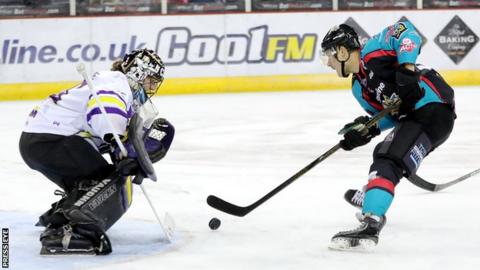 Belfast Giants twice came from two goals down to force an overtime victory over Manchester Storm in the Challenge Cup quarter-final second leg.
After the 3-3 draw last week, Storm looked in control as Cody Cartier and Taylor Dickin put them 2-0 up.
Steve Saviano quickly replied but Dickin restored Storm's two-goal lead.
After a goalless second period, two Chris Higgins goals ensured overtime before Alex Foster struck with eight seconds left as a shootout loomed.
Cartier put Manchester ahead on 6:00 at the SSE Arena and it was 2-0 only 1:43 later as Dickin netted to put them 5-3 up in the tie.
Saviano replied on 11:26 as he finished well from a James Desmarais pass but Dickin restored Manchester's two-goal advantage on 13:42.
As tempers flared, Belfast's Michael Forney was handed a two plus two roughing penalty as well as a five plus game misconduct penalty for fighting before the end of the first period.
Belfast's Matt Towe and Varley then dropped the gloves during the goalless second period as passions continued to run over.
However, Higgins netted for the Giants only 14 seconds into the final period after being set up by David Rutherford and he scored again in a superb solo effort on 48:58 to ensure that the tie went to overtime.
The home side piled on the pressure in overtime before Foster finally broke Manchester's resistance with eight seconds left.
Belfast will face either Cardiff or Dundee in the semi-finals with the Devils leading 4-1 heading into Wednesday's second leg in the Welsh capital.
Next up for the Giants are back-to-back home games on Thursday and Friday against the Edinburgh Capitals.