Elite League: Belfast Giants' losing run now four games after Fife defeat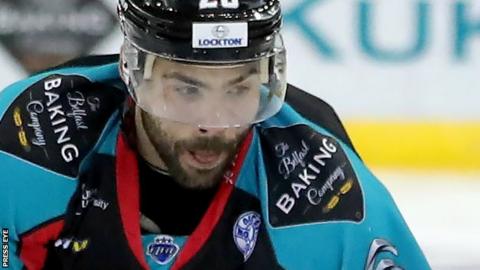 Belfast Giant suffered a fourth straight Elite League defeat as Russ Moyer's goal clinched Fife Flyers a 3-2 over-time victory in Saturday's game.
Alex Foster put the Giants ahead in the first period before Josh Scoon got Fife on terms.
Brendan Brooks put Fife 2-1 up in the second period but Giants player-coach Derrick Walser quickly levelled before a goalless third period.
However, Fife's Moyer hit the winner 31 seconds into over-time.
The Giants take a point from Saturday's contest on the road but will hope for better in Sunday's second game of the weekend in Scotland against Edinburgh Capitals (18:00 GMT).
The Giants began Saturday's game without the injured duo of David Rutherford and Jackson Whistle with Stephen Murphy starting in nets.
However, they deservedly took the lead at 11:24 as Foster netted after collecting and dispatching a rebound from James Desmarais's one-timer.
However, the Flyers were on terms within four minutes as Scoon managed to squeeze the puck into the Giants net.
The home side took the lead for the first time on the night with Brooks finding the net with 73 seconds gone in the second period, assisted by Russ Moyer and Richard Jackman.
Walser tied the scores once again in this game with his powerplay goal at 28:31, assisted by Blair Riley and Chris Higgins.
The Giants dominated possession during the final period but could not find a way past the in-form Shane Owen in the Flyers net.
With only 31 seconds gone in the overtime period, Moyer's effort found the net to give the home side the sudden death win.