Ice hockey: Braehead Clan captain Matt Keith admits to falling short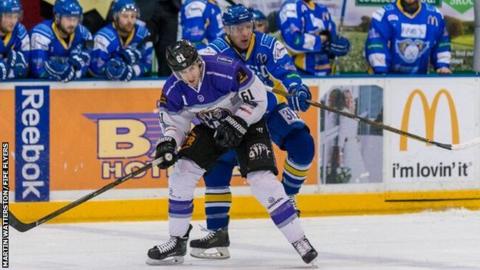 Braehead Clan captain Matt Keith reckons he is one of the players in the team that isn't contributing enough this season.
The Glasgow side are just inside the Elite League top eight but had another weekend of one win and one loss as their consistency issues continued.
Skipper Keith isn't accepting any excuses for the latest loss - Sunday's 6-4 defeat by Edinburgh Capitals at Murrayfield after beating Fife Flyers 6-5 in Kirkcaldy on Saturday.
"Since the start of the season, we're playing better hockey as a team, but individually, I'm one of the guys that doesn't feel they're contributing enough," he said.
"I'm pretty sure there are other players that feel that way too, so I think we are playing better and getting wins, but it's still not good enough.
"I don't think there's any excuses for the loss on Sunday.
"We had every opportunity to go there and take the two points. We let it slip away and that will eat at us all week."
Clan ended their run of six straight away games, due to the unavailability of Braehead Arena, with another mixed weekend, winning one and losing one in the end.
They started in Fife Ice Arena as the latest chapter of Scottish sport's big rivalry led to the Clan and Fife Flyers sharing 11 goals, with Ryan Finnerty's men edging this contest.
Matt Beca and Chase Schaber traded goals for both teams, as did Leavitt and Schaber with his second as both sides fought out a 2-2 first period.
Craig Peacock and Matt Sisca each fired in two each as the game swung in either direction. Kyle Haines finally put Fife ahead, but Daniel Åhsberg cancelled it out early in the third period.
However, Clan took the points in the end as Scott Pitt's goal with five minutes to go secured the result in what turned into a nervy night for both teams.
Not content with putting their fans through the wringer, they did it again at Murrayfield on Sunday as they took on Edinburgh Capitals in the last of those road games.
This time they were on the losing end as a virtuoso display from Pavel Vorobyev, who scored four goals, resulted in the Caps taking victory 6-4.
Leavitt opened the scoring after 12 minutes, with Vorobyev levelling for the Capitals before Scott Pitt restored Braehead's lead. This was cancelled out by Karel Hromas.
Ian Schultz fired Edinburgh in front, but Peacock equalised again, with Vorobyev adding two more late on to more or less decide the destiny of the points.
Mike Hammond pulled Clan to within one, but the Russian picked up his fourth of the game with an empty-net finish to clinch victory for Edinburgh.
For the Caps, it had been quite a turnaround from 24 hours before, when they were thrashed 7-1 by Sheffield Steelers to send them out of the Challenge Cup.
After Wednesday's 2-2 home draw in the first leg of their quarter final, they were optimistic as they went to Yorkshire for the second leg, but it soon turned into a night to forget.
Levi Nelson's opening goal was cancelled out by Caps' coach Michal Dobron, but Steelers kicked on from there.
Goals from Nelson again, Robert Dowd, Anders Franzon, John Armstrong, Liam Kirk and Guillaume Desbiens secured Steelers a 9-3 aggregate scoreline.
Flyers' weekend ended in disappointment as they looked to bounce back from Saturday's loss to Clan, but they finished with a narrow 3-2 loss at Nottingham Panthers on Sunday.
Andy Sertich and Alex Nikiforuk put the Panthers two up in the second period, but it was quickly cancelled out by Sebastien Thinel and Brendan Brooks.
Nikiforuk's second came with 45 seconds to go to secure victory for the home team, leaving Fife to reflect on an overall disappointing weekend.
Dundee Stars had only one game this weekend and they used it well as they defeated Manchester Storm 5-3 at home on Sunday.
Brett Switzer and Adam Harding traded goals in the first period, but Marc LeFebvre's side kicked on in the second period.
Switzer picked up his second followed by goals from Kevin Bruijsten and Felix-Antoine Poulin as Dundee opened up a 4-1 lead.
Matt Bissonnette and Joey Sides added a goal each late on, with Mark Heatley closing the deficit to two, but Switzer completed his hat-trick as Stars made it 10 points from their last 12.
WEEKEND RESULTS
Saturday
Elite League
Fife Flyers 5-6 Braehead Clan
Challenge Cup quarter-final second leg
Sheffield Steelers 7-1 Edinburgh Capitals (9-3 on aggregate)
Sunday
Elite League
Dundee Stars 6-3 Manchester Storm
Edinburgh Capitals 6-4 Braehead Clan
Nottingham Panthers 3-2 Fife Flyers