Friendship Four: Vermont and Quinnipiac make decider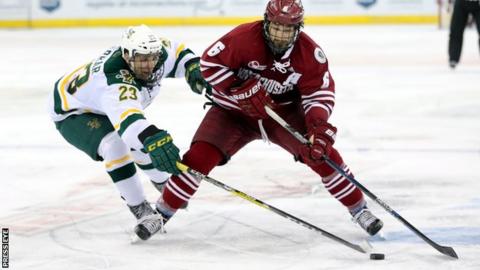 The 'Belpot' will be contested between University of Vermont and Quinnipiac University after two very different matches at the SSE Arena in Belfast.
The tournament opened with Vermont coming from two goals down to beat University of Massachusetts 4-2.
Quinnipiac won a shootout against St Lawrence University after a cagey, scoreless encounter.
The Friendship Four tournament is in its second year and features four college sides from North America,
In a breathless opening, played in front of a crowd of just over 5,000, the underdogs UMass rushed into a 2-0 lead in the opening three minutes of the game through goals by Griff Jeszka and Shane Bear.
But the 'Catamounts', as Vermont are known, mounted a steady comeback in the remainder of the game, getting it back to 2-2 by the end of the second period with goals through a Derek Lodermeier finish and a Craig Puffer deflection home, before taking the lead for the first time early in the third, Puffer burying a rebound on the power play.
Empty net finish
UMass' attempts to force overtime ended when Vermont scored an empty-netter through Matt Alvaro in the dying seconds of the game.
The second semi-final was a more and physical affair as St Lawrence tried to upset the formbook against Quinnipiac, number three in the college rankings and supposedly the pre-tournament favourites.
It was evident there is absolutely no love lost between the two sides - St Lawrence's Joe Sullivan got a major penalty for boarding and was ejected from the game late in the third period.
It left his side a man short on the ice for five minutes as the match entered its crucial final phase but they survived without conceding and the match went into overtime.
The two teams still could not be separated after the extra five minutes of play and so the fixture ended in a 0-0 tie as far as the record for their regular season was concerned.
But the tournament required a winner to face Vermont and so the game went into a penalty shootout and Quinnipiac's Nick Jermain was the only player to score out of six taken by the two sides.
St Lawrence face Umass in the 3rd-4th place play-off on Saturday afternoon before the decider on Saturday night.