Vegas Golden Knights: Las Vegas NHL franchise name revealed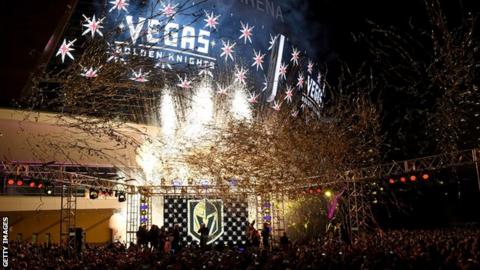 Las Vegas' first major professional sports team will be called the Vegas Golden Knights, after the ice hockey team's name and logo were revealed.
The Golden Knights will be the 31st NHL team and enter the league for the 2017-18 season.
The team will play at the $375m (£302m) T-Mobile Arena just west of Las Vegas Strip.
The city has struggled to attract a professional sports team because of Vegas' gambling industry.
"We believe in this market," said NHL commissioner Gary Bettman.
Speaking at the team's launch, he added: "This is a great town. We know everybody here has been hoping for a professional sports team. We're thrilled it's hockey."
Golden Knights owner Bill Foley paid a $500m (£403m) expansion fee to the NHL to join the league.