Nottingham Panthers: Kristian Kudroc says club can turn around their poor form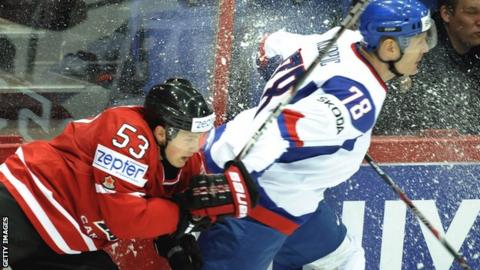 Nottingham Panthers new Slovakian defenceman Kristian Kudroc says he has seen enough in training to believe the club can turn around their poor form.
Panthers have lost their last five domestic matches and the 35-year-old has replaced Petr Kalus on the roster.
Kudroc, who will make his debut on Friday against Coventry, told BBC Radio Nottingham: "We can turn it around.
"There have been some injuries at the club, and there are good players to come back into the line-up."
The defenceman, who was a first-round draft pick for New York Rangers in 1999 and played in the NHL for Tampa Bay Lightning and Florida Panthers, believes he has made the right choice to come to Nottingham.
"It's a nice arena and a good set-up, so I am really happy," added Kudroc, who began this season in Austria with Innsbruck.
"I hear it is a good league and Corey (Neilson) was keen to sign me - I'm keen to win something here."