Ice hockey: Edinburgh Capitals 'need to cut out errors'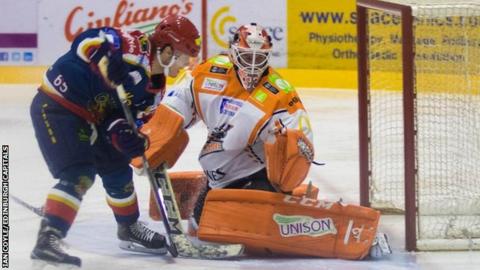 Edinburgh Capitals forward Taylor MacDougall says his team has character - but believes they need to cut out errors.
The Murrayfield side had one point to show from four in a weekend that saw them host the current league leaders, Cardiff Devils, and current champions, Sheffield Steelers.
But MacDougall would like to see the Caps take the positives, particularly from Saturday's penalty shots loss to the Steelers and build from them.
"There are positives and negatives we can take from each game," MacDougall said. "It was prevalent in both match-ups where taking your foot off the gas saw these top teams make you pay.
"The fact that we showed the character to hang around, come back from 5-1 and earn the point from penalty shots on Saturday is definitely a positive and one we want to build off of.
"I think we have to clean up the mistakes and become more consistent with our effort if we're to compete with these teams.
"But we never count ourselves out and that's a positive quality to have at this time of the year."
Cardiff's Scottish road trip
Michal Dobron's side kicked off the weekend on Friday night as the Caps welcomed Cardiff Devils, but they couldn't inflict a shock in the way they did at Nottingham Panthers the week before.
The Welsh outfit, who were six points clear at the top of the table, began their trilogy of games in Scotland with a 4-1 win over the Capitals to increase their winning league run to seven.
Mark Richardson, Joey Hadded and Guillaume Doucet each scored in the opening four minutes of the second period to kill the game off after a goalless first period.
While Mike D'Orazio pulled one back, Joey Martin's late fourth started the mini tour off well for them.
Sheffield Steelers were next in town on Saturday and an almost herculean effort from Edinburgh saw them claw back a 5-1 deficit to ultimately miss out, losing 6-5 after penalty shots.
Steelers were four up in the opening 20 following strikes by Levi Nelson, Yared Hagos, John Armstrong and Matthieu Roy.
Pavel Vorobyev netted for Edinburgh, Roy picked up his second to open up what seemed like an unassailable five-goal lead.
The Caps started to claw it back when Garrett Milan and two more from Vorobyev in the third period brought them to within one of the champions.
Then Matt Tipoff's last gasp equaliser took the game beyond regulation time, however penalty shots from Jesse Schultz and Armstrong proved pivotal as the visitors took the win.
The road to Dundee
After the win in Edinburgh on Friday, Cardiff Devils moved on to Dundee Stars on Saturday and like Steelers, had to prevail on penalty shots to capture the two points.
Felix-Antoine Poulin had the Stars in front, before Doucet and David Brine turn the deficit into a 2-1 lead.
But Dundee kicked on and further goals from Joey Sides, Poulin and Kevin Bruijsten saw them move into a 4-2 lead.
However, late goals from Layne Ulmer and Doucet, with his second, brought overtime then penalties, where Jake Morrissette completed Devils' second win of the weekend.
Stars then hosted Sheffield on Sunday and despite being under the cosh for much of the game, Marc LeFebvre's side took the points in a 4-0 win.
Kevin Hart put them ahead before Brett Switzer's penalty shot then a double from Vinny Scarsella, not to mention a virtuoso display in goal from Joe Fallon, got them two huge points.
Devils run out of steam
Meanwhile, the Devils completed their weekend in Fife against the Flyers on Sunday and couldn't complete the job of three wins out of three in Kirkcaldy.
Flyers, playing their only game of the weekend, possibly took advantage of Cardiff's fatigue, delivering an excellent performance in a 4-0 win.
Brendan Brooks, Chase Schaber, Carlo Finucci and an empty net finish from Justin Fox gave them a shutout victory, with Shane Owen once again impressing in the Fife goal.
As for Braehead Clan, it was a rare weekend off for them as they look ahead to their next fixture, away in Manchester Storm on Saturday.
Weekend results
Friday
Edinburgh Capitals 1-4 Cardiff Devils
Saturday
Dundee Stars 4-5 Cardiff Devils (PS)
Edinburgh Capitals 5-6 Sheffield Steelers (PS)
Sunday
Dundee Stars 4-0 Sheffield Steelers
Fife Flyers 4-0 Cardiff Devils