Elite League: Cardiff Devils 5-2 Belfast Giants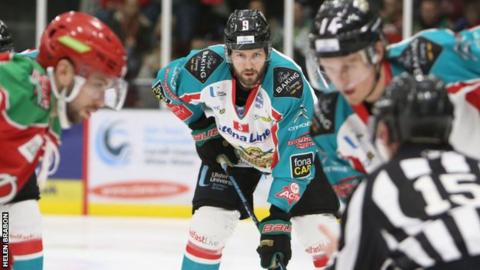 Belfast Giants missed out on a weekend double after this Elite League defeat by the leaders in Wales on Sunday.
The Giants beat Braehead Clan 3-2 on Saturday but they were 3-0 behind in Cardiff after goals from David Brine, Sean Bentivoglio and and Joey Martin.
Belfast hit back through Alex Foster and Jim Vandermeer with the five goals coming in a thrilling 10-minute spell in the second period.
Guillaume Doucet and Jake Morrisette netted for Cardiff in the third period.
Despite an entertaining first period, both Stephen Murphy in the Giants net and Devils netminder Ben Bowns ensured the game would be scoreless going into the second period.
The hosts dominated the first 10 minutes of the period and quickly skated into a 3-0 lead.
Devils take charge
First up, it was Brine's shot that flew into the visitors net at 23:01 before the Devils scored twice inside 39 seconds through Bentivoglio's nice backhanded finish at 27:36 and Martin's slapshot at 28:15.
The Giants recovered and Foster netted through a cannon of a slapshot which ended up in Cardiff's top shelf at 32:02.
Then, at 33:19, Vandermeer slotted the puck into the Devils net after Steve Saviano's pass found the defenceman open at the backpost to make it a 3-2 game after 40 minutes.
Into the final period and at 6:08 it was the Devils who grabbed an important fourth goal as Doucet redirected the puck into the Giants net.
With Stephen Murphy pulled for an additional out skater, the Giants piled the pressure on the Welsh side in search of a third goal.
However, Morissette's clearance from his own zone found it's way into the empty Giants net with 1:51 left on the clock and sealed the win for Cardiff.
The Giants return to action next weekend with back-to-back away games, against the Coventry Blaze on Saturday and then Nottingham Panthers a day later.
Sunday's Elite League results
Braehead Clan
5-2
Nottingham Panthers
Cardiff Devils
5-2
Belfast Giants
Coventry Blaze
1-6
Sheffield Steelers
Dundee Stars
4-7
Fife Flyers
Edinburgh Capitals
1-4
Manchester Storm