Absences cost Fife Flyers in double defeat by Sheffield Steelers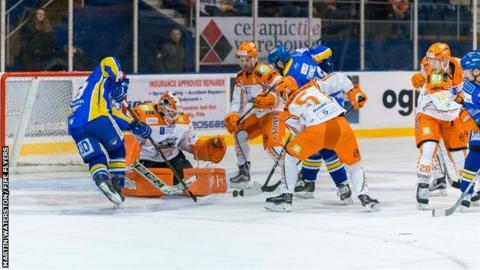 Fife Flyers assistant coach Jeff Hutchins says being two players down cost his team as they lost twice to current champions Sheffield Steelers.
Saturday's 4-1 loss in Sheffield was followed by a 4-2 home defeat on Sunday as Flyers went four games without victory.
But the Flyers' number two bemoaned the fact they have not been at full strength for much of the season and pointed out how well they have done in penalty situations.
"To lose both games, we're disappointed as a group," Hutchins said. "We were down two imports and played short all weekend. It's caught up with us, especially against a team like Sheffield.
"We haven't had our full team, barring one game, all season due to injuries and players not being here so we've got an idea of how we look.
"Our special teams have been decent, not giving anything on the penalty kill and one from five in the powerplay so that's okay. It's just five-on-five that we're struggling with at the moment."
Flyers needed a reaction after their two losses to Braehead Clan, but were always going to find it difficult against Paul Thompson's side, who have been consistent this season.
Todd Dutiaume's men made life hard for the Steelers in Sheffield on Saturday despite losing 4-1 as Brendan Brooks opened the scoring with five minutes left of the first period.
Levi Nelson finally broke Flyers down with an equaliser before Robert Dowd, Tyler Mosienko and Guillaume Desbiens each netted to clinch the points.
They were in Fife on Sunday for the re-match and despite their journey being disrupted by a pheasant colliding with their bus, they still came away with a 4-2 win in Kirkcaldy.
Two from John Armstrong and one each from Jesse Schultz and David Phillips had the Steelers four in front without reply as they strode towards two more points.
Matt Sisca and David Turon pulled goals back for the Flyers but the champions held out to complete a four-point weekend.
Edinburgh Capitals also ended the weekend with nothing to show for their efforts after losses on the road to Cardiff Devils and Manchester Storm.
On Saturday, the Caps were in South Wales and it started well as Yevgeni Fyodorov opened the scoring.
But Gleason Fournier, Andrew Lord and Jake Morrissette had the game turned around in Cardiff's favour by the end of the first with Joey Martin soon adding a fourth.
Although Jacob Johnston pulled one back, Lord applied his second with an empty net to confirm a 5-2 win.
Edinburgh took on Storm on Sunday, but did not fare much better as they went down 6-2 in Altrincham.
Patrik Valcak netted first for Manchester, but saw his early marker wiped out by Jared Staal before Cody Cartier and Valcak's second put the home side 3-1 ahead.
Mason Wilgosh struck back for the Capitals, however Darian Dziurzynski's goal a minute later put Storm 4-2 up before the break and Cartier completed his hat-trick to round the game off.
Braehead Clan took on Dundee Stars, also in a double-header, and their inconsistent form continued with a lacklustre home display in a 3-0 defeat.
Kevin Hart found the net first with Brett Switzer following suit with the second before the end of the first period. Felix-Antoine Poulin finished Stars' third to give them two valuable league points.
Braehead made their way to Tayside and needed penalty shots to take the last two points on offer in the Challenge Cup group, following a 4-4 contest.
Matt Keith and Poulin traded goals in the first period, before the Clan surged into a 4-1 lead through goals by Cody Carlsson, Scott Pitt and Mike Hammond.
However, Stars clawed their way back as Kevin Bruijsten, Vinny Scarsella and Joey Sides tied the game.
Overtime could not separate them in the end and it was Jay Rosehill scoring two penalty shots and netminder Gary Russell keeping them out at the other end that secured a much needed Clan win.
Results
Wednesday
Elite League:
Braehead Clan 2-6 Cardiff Devils
Edinburgh Capitals 5-1 Dundee Stars
Saturday
Elite League:
Cardiff Devils 5-2 Edinburgh Capitals
Braehead Clan 0-3 Dundee Stars
Sheffield Steelers 4-1 Fife Flyers
Sunday
Elite League:
Fife Flyers 2-4 Sheffield Steelers
Manchester Storm 6-2 Edinburgh Capitals
Challenge Cup:
Dundee Stars 4-5 Braehead Clan (PS)