Corey Neilson: Nottingham Panthers coach says Europe trip great for squad bonding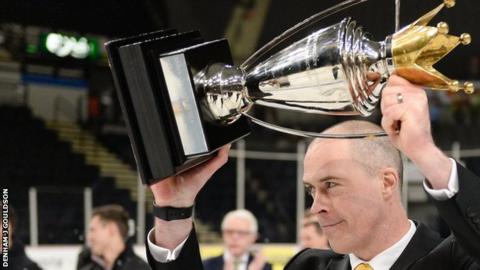 Nottingham Panthers coach Corey Neilson says this weekend's Continental Cup in Spain will be great for team bonding.
The Panthers begin their European campaign in the second round in Spain, with matches against hosts Jaca, followed by Istanbul and Liepaja.
Neilson told BBC Radio Nottingham: "This team is all about business on the ice, which is great to see.
"But it will be good to spend an extended period of time together on the road together in the coming days."
Panthers begin the four-team tournament on Friday against their Spanish hosts, before facing Turkish side Istanbul on Saturday and Latvian club Liepaja on Sunday.
The winners will go through to November's semi-final in Denmark, one step away from January's Super Final.
"It is certainly a goal to win it," continued Neilson. "Getting through the stages won't be easy but, I know it's cliché, you take every game as it comes.
"Scouting these teams has been difficult but if we go there, do our thing and play our game, we should be fine.
"Give these teams credit. They do things a little differently from standard Elite League hockey, but it can be effective."