BBC Sport - Challenge Cup highlights: Cardiff Devils 4-5 Sheffield Steelers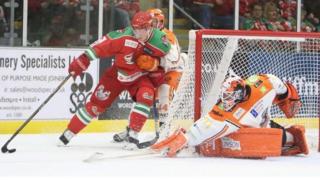 Devils beaten by Steelers in Challenge Cup
Cardiff Devils were beaten 4-5 by Sheffield Steelers in the Challenge Cup at the Ice Arena Wales.
But the Devils gained swift revenge the following day when they visited Sheffield in the Elite League and beat the Steelers 5-2.
Cardiff Devils' next game in the Elite League is an away trip to Braehead Clan on Wednesday, 19 October. Face-off is at 19:30 BST.