Ice hockey: Dundee Stars leave it late against Fife Flyers
By Craig Anderson
For BBC Sport Scotland
Last updated on .From the section Ice hockey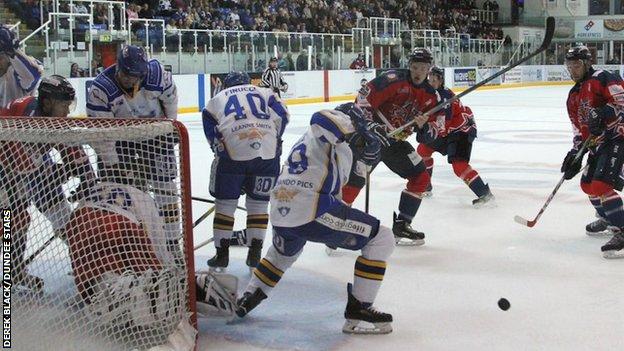 Dundee Stars head coach Marc LeFebvre insists there was never any doubt over his team's fitness as they left it late to complete a four-point weekend.
After beating Belfast Giants in overtime on Saturday, Stars waited until the last five minutes to clinch the points against Fife Flyers.
But LeFebvre says his team had to fight back after falling into something of a lull that could have been costly.
"Every time we play Fife, it's a tough game," said LeFebvre.
"We had to fight our way back after playing in their hands in the second period, but we shut them down and scored a huge goal late on.
"We showed great character and I never doubted whether tiredness would be a factor after Saturday's trip because we're young and fit.
"Every game is going to be a tough game this season. Both our matches were hard going, but every team is good and we have to be ready."
Stars' four point weekend moved them into second place in their Challenge Cup group, one behind the team they beat on Saturday, Belfast Giants.
Dundee made the trip to Northern Ireland keen to avenge last week's 5-3 reverse - a game they lost in the final minutes.
But winning 4-3 in overtime was cause for celebration as LeFebvre and his men showed they can get the job done against the so-called bigger teams.
Vinny Scarsella opened the scoring with skipper Joey Sides adding a second with an impressive finish.
Belfast pulled one back through David Rutherford and Mark Garside before Sides edged the Stars in front again in the third.
Colin Shields restored parity once more for the Giants, taking the game into the extra period, where Brett Switzer struck to take the win.
On Sunday, it was a more closely fought affair against the Flyers and Scarsella's goal five minutes from the end proved to be the one that mattered.
An empty net finish from Justin Faryna added decoration to an excellent weekend for LeFebvre's team, who come up against Braehead Clan on Friday next.
Edinburgh Capitals also completed a four-point weekend, but needed overtime then penalty shots over their two games to put them third in the group.
After beating Braehead 3-2 for a second time in three days on Wednesday, Michal Dobron's side came from behind to defeat Fife Flyers by the same score in the extra session.
Ric Jackman and David Turon had the Kirkcaldy side two up, but Yevgeni Fyodorov's goal gave the Capitals a lifeline, which they took with both hands.
Mason Wilgosh levelled with six minutes to go as momentum swung in the Caps' favour, taking the game to overtime, where Jared Staal scored to seal the win.
Taking it into Sunday, the Caps went all the way to penalty shots to clinch victory over Manchester Storm after a 2-2 draw at Murrayfield.
Staal's opener was cancelled out by Cody Cartier, before Trevor Johnson added a second for the visitors. Staal again popped up with the equaliser to take the game beyond regulation time.
An untimely slip from Storm goalie Mike Clemente at the crucial shot allowed Pavel Vorobyov to slot the puck home and take their first points in the regular league season.
As for Braehead Clan, they finally got their first win of the season, beating Storm away from home on Saturday in a tense 5-3 win.
Eric Neilson scored first for Manchester with Matt Beca and Scott Pitt netting for Clan to turn the game around, before Beca picked up his second.
Cartier pulled one back before Beca completed his hat-trick, but Mario Valery-Trebucco set up a grandstand finish as Storm got it back to 4-3, which was killed off by Alex Leavitt's empty net goal.
Leavitt added two more on Sunday as Clan couldn't make it a second straight win, going down 3-2 to Belfast Giants after penalty shots.
Chris Higgins and Blair Riley were on target for the Giants, with Rutherford scoring the decisive penalty shot that saw Derrick Walser's side take the two points from Glasgow.
Weekend results
Saturday
Elite League:
Manchester Storm 3 Braehead Clan 5
Challenge Cup:
Belfast Giants 3 Dundee Stars 4 (OT)
Fife Flyers 2 Edinburgh Capitals 3 (OT)
Sunday
Elite League:
Edinburgh Capitals 3 Manchester Storm 2 (PS)
Challenge Cup:
Braehead Clan 2 Belfast Giants 3 (PS)
Dundee Stars 2 Fife Flyers 0