Nottingham Panthers sign NHL enforcer Brian McGrattan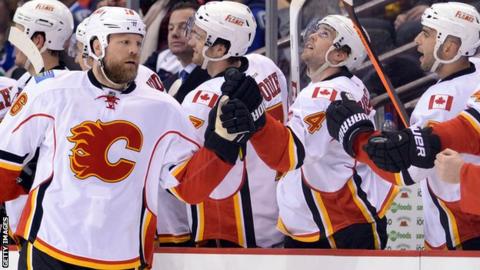 Nottingham Panthers have signed NHL forward and enforcer Brian McGrattan.
The 35-year-old has played for Ottawa Senators, Nashville Predators, Phoenix Coyotes and Calgary Flames - and spent last season in the AHL with San Diego.
The Canadian has played 317 games in the NHL - most recently as 2014-15 when he iced eight times for Calgary.
"He is a tough, tough guy and I know our fans are going to love watching him play," Panthers general manager Gary Moran told BBC Radio Nottingham.
"This is a signing we have been working on for some time and everyone is looking forward to him arriving."
McGrattan replaces Cam Janssen on the roster, who pulled out of a deal to return to the club last month.
Coach Corey Neilson said: "This is the final piece we've been waiting for.
"These things don't happen overnight. Management have been supportive throughout the process and it has paid dividends.
"I think the fans will love this guy. It was a vacancy we weren't expecting to have to fill, but things happen in sports and problems become opportunities."