Belfast Giants sign defenceman Ryan Martinelli
Last updated on .From the section Ice hockey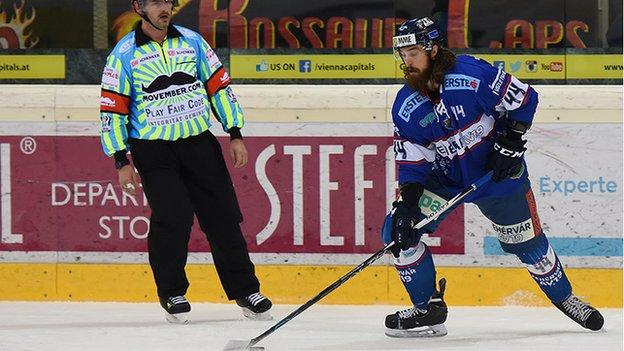 Belfast Giants have added Canadian defenceman Ryan Martinelli to their roster for next season's Elite League.
Martinelli, who joins from Hungarian side Székesfehérvár, played against the Giants for Fischtown Pinguins in the 2014/15 Continental Cup.
"He is a big guy who plays hard and takes away time and space," said Steve Thornton, Giants Head of Operations.
"He is mean in front of the net and is also a really good player - we are excited to have him."
He added: "Ryan clears the net really well. He is a winner, who won in Bremerhaven and he is a great skater as well.
"We wanted more size without sacrificing speed so he is the perfect guy for that job."
Martinelli played for London Knights, University of Western Ontario, Valpellice of Italy and Rosenborg before joining Fischtown Pinguins in the 2012/13 season.
"I have been in contact with Steve Thornton since the Continental Cup in 2014 and he has been keen on having me in Belfast," said Martinelli.
"I am glad we kept in contact over the last couple of years and I finally have decided to make the switch and see what all the fuss is about."
"I've known Mitch Ganzak (played for Giants in 2015/16) for a long time, a former teammate of mine in Italy - I trust his opinions and he had nothing but great things to say about what the Giants had to offer."