Ice hockey: Emmerson tips Braehead to overcome Fife Flyers
By Craig Anderson
For BBC Sport Scotland
Last updated on .From the section Ice hockey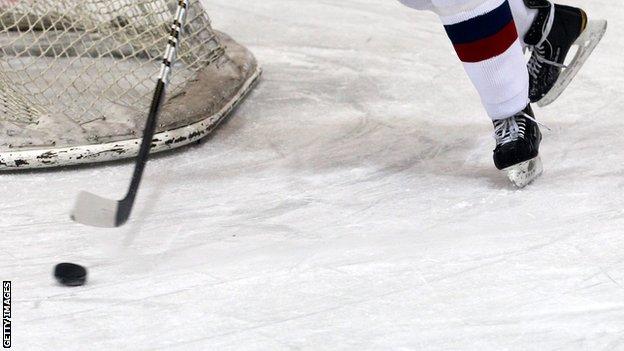 Edinburgh Capitals coach Riley Emmerson believes Braehead Clan will be flying the Saltire in the Elite League play-off finals next weekend.
Ryan Finnerty's men come up against fellow Scots and rivals Fife Flyers in this week's quarter-finals for a place in the showpiece event.
And Emmerson reckons their depth and experience will be the key to success.
"Braehead and Fife will be a really intense series; both sides can take big positives from the season," he said.
Emmerson, whose side missed out on the top eight, says Flyers have improved as the season has progressed, but thinks Braehead still have the edge.
"Fife have come on strong in the second half of the season and improved as the campaign went on, but I think Braehead have got too much depth and too much experience.
"That said, they were in a similar position against Hull Stingrays in last year's quarter-finals and went out, coming up against a hot David Brown, who was Stingrays' goalie last year.
"He's going to be in the net for Fife this time and the guys at Braehead last season will remember that and will feel they have to chance to do something about it this time.
"Clan won the Conference, at the expense of the Flyers and had it not been for some bad injuries at the one time, they would have been closer in the league this season.
"As for Fife, missing out on the Gardiner title can fuel them. But, speaking as a player, it's two games to do whatever it takes and they'll give Braehead a real test in these games.
"That's going to be a great series, but I think overall Braehead will take it and qualify for the finals weekend."
Dundee Stars are the other Scottish team involved in this weekend's action and will face a stern test in league runners-up Cardiff Devils for that place in Nottingham.
Devils slipped away in the final knockings of the title race and lost the Challenge Cup final as well as moving to a new home in Ice Arena Wales in recent weeks.
While Emmerson speaks highly of Dundee and what Marc Lefebvre's side have in their ranks, he reckons Cardiff's recent upheaval could work to Stars' advantage.
"Dundee have to go to Cardiff's new arena and that could work to their advantage as the Devils are still settling into their new surroundings," Emmerson said.
"They have to use every advantage they can and the best result, other than a win, would be a narrow loss to give them a chance back on Tayside on Sunday.
"It's a huge test for the Stars and having played them a lot this year, we know they're a very hard team to come up against.
"Their lines play the same way and I know losing experienced players like David Turon in defence and Vlastomil Lakosil in the nets during the season hurt them.
"David was a guy at the back end who went about his job unnoticed and played a lot of big minutes. His departure, I believe, was the catalyst behind their recent slide.
"They have great firepower and leadership in the offensive lines, but they'll have their work cut out against Cardiff, who have been great all season long.
"They may not be in the best shape after losing the league and the Challenge Cup, but they're still a phenomenal team and will be desperate to finish with something to show for it.
"I think Cardiff will win the tie overall, but Dundee will come out swinging and give them a test. It should be an interesting match-up."
While Emmerson can only spectate on the games this weekend, he admits it's disappointing to be on the outside.
But he believes one team from the eight qualifiers could cause a major upset in this final push for the last piece of silverware.
"I would love to have been involved this week and it's something we were striving for, but it sucks to be on the sidelines and watching these games from afar.
"Our season has ended now and the one tiny consolation I can take personally is that I can enjoy the hockey and not have any emotional attachment.
"I think there could be some upsets and I think a team like Coventry Blaze, who won the play-offs and play the league champions Sheffield Steelers, could be a team to watch again."
Weekend fixtures
Saturday
Quarter-final first leg
Cardiff Devils v Dundee Stars (1900)
Fife Flyers v Braehead Clan (1915)
Sunday
Quarter-final second leg
Braehead Clan v Fife Flyers (1800)
Dundee Stars v Cardiff Devils (1830)